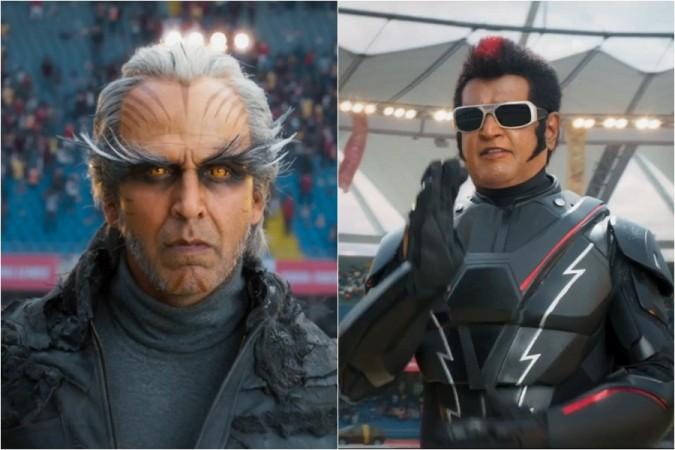 Director S Shankar's sci-fi thriller 2.0 starring Rajinikanth and Akshay Kumar is just 3 days away from its release and tickets have already been selling like hot cakes at the box office thanks to advance booking.
A sequel to 2010 film Enthiran which had received positive reviews from critics, follows the breadcrumbs left by its prequel in which Chitti - the superbot (played by Rajinikanth) was disintegrated at the end.
While moviegoers and die-hard Rajinikanth fans are gearing up for the release of the film, here's everything you need to know about 2.0 which hits the theatres on November 29.
2.0 full cast and crew
Rajinikanth as Vaseegaran and Chitti, Akshay Kumar as Dr Richard/Crowman, Amy Jackson as Nila, Sudhanshu Pandey as Shahrah Bohra including other actors Adil Hussain, Kalabhavan Shajohn, Kalabhavan Shajohn, Kaizaad Kotwal, Mayur Bansiwal and Riyaz Khan
Story
In 2.0, scientist Vaseegaran (played by Rajinikanth) will reassemble Chitti (also played by Rajinikanth) and come up with an updated version of his mega robot named 2.0 to defeat Dr Richard/Crowman (played by Akshay Kumar) who has an incredible ability to turn into any shape and size using the captured mobile phones from across the earth.
And what follows is the mass destruction caused by Dr Richard who vows to eliminate the human race for inventing the technology that caused adverse effect on environment.
Moviegoers will witness some larger than life fighting sequences between 2.0 and Crowman and how they simply destroy everything in their path with their supernatural abilities. The movie has been fully shot in 3D.
Making of Rajinikanth and Akshay Kumar's look in 2.0
For Dr Vaseegaran's look, Rajinikanth had to wear a superhero armour and tight-fitting suit to look authentic for his part. His make-artists and stylists also put in a lot of effort for creating Rajini's different look.
On the other hand, Akshay Kumar had to wear prosthetics which was embellished with spikes on his head and body.
"It was really a hard process for me to get the prosthetics done. For almost three and a half hours, I had to sit down quietly and do nothing. Three people used to work on my body and I had to stay patient...that was tough. I would say that the whole process of prosthetics made me a much calmer and patient person," Akshay Kumar told IANS.
Amy Jackson replacing Aishwarya Rai
Many wondered why Aishwarya Rai, who played the role of Dr Vaseegaran's girlfriend Sana in part 1, wasn't a part of the sequel. To which director Shankar answered that 2.0 has a completely different story and characters, and hence the former Miss World could not be a part of it. However, Shankar also stated that Aishwarya's character from Robot will find a mention in 2.0.
Akshay Kumar was not the first choice
Did you know the Khiladi Kumar was not the first choice for the sci-fi film. It was none other than 'The Terminator' Arnold Schwarzenegger.
Director Shankar at a recent event has revealed that they had talks with Arnold for the role as they wanted to make the film international. But somehow things didn't fall in right place and the coveted role was ultimately bagged by Akshay Kumar.
Crossover movements
Just like director SS Rajamouli's Baahubali, Dharma Productions head Karan Johar is gearing up for the release of Tamil entertainer 2.0 as a film distributor.
South Indian cinema has been always ahead in term of budget, scale and technology.
Asked about how Bollywood needs to up its game, Karan told IANS, "I think the great moves of many of the filmmakers in the south have encouraged that movement even in Hindi cinema. I think it is because there is a '2.0' and there was a 'Robot' and a 'Baahubali', that there will be cinema spectacles which will actually follow them.
"We had the gumption, glory and guts to make it because we have seen the success. In many ways, the southern film industry has pioneered this movement of meeting narrative and technology for like, decades. They get their stories, emotions, scale and technology bang on."
Karan said the southern film industry has made Hindi filmmakers feel inferior, but in a positive way.
When asked if after success of 'Baahubali' and anticipated success of '2.0', more pan-India films will be made wherein actors and technicians from various industry work together, Karan said: "I think the true crossover has to happen internally in India. We keep talking about crossover that the films are going out of the country but I think 'Baahubali' is a true crossover film.
"It's a film made in Telugu which worked very well in all the regions of our country. Similarly, '2.0' has that vision of actually working within the country," he said.
He added that people within the film industry need to encourage the crossover movement.
"We have to encourage those crossover movements. Films in all languages whether it is in Marathi, Bengali, Tamil, Telugu, Malayalam, Kannada, have to work all across because that should be the true vision eventually," he said.
Biggest pan-India release
There's no doubt that 2.0 is India's most expensive films that has been made with a budget of nearly Rs 500 crore unlike Baahubali 2 (Rs 250 crore approximately). According to Bollywood Hungama, 2.0 has managed to lock around 6600 to 6800 screens in India. In comparison, Baahubali 2 had managed to acquire approximately 6500 screens across the country. It has also acquired 2,500 screens overseas (total 10,000 screens approximately).
With massive screen counts, 2.0 has been allotted around 32,000 to 33,000 shows across India which will further boost the revenue generated from the ticket window alone. The morning shows are starting from as early as 4 am in several parts of the country. Baahubali 2 was allotted with approximately 31,000 shows across theatres in India.
Rajinikanth's upcoming movie 2.0 is also hitting the screens in Pakistan. The Hindi version of the movie is releasing simultaneously in the neighbouring country.
According to the reports, Rajinkanth's 2.0 has already recovered Rs 370 via Satellite Rights (Rs. 120 crore All Versions), Digital Rights (Rs. 60 crore All Versions), North Belt Rights (Rs. 80 crore), Andhra Pradesh/Telangana Rights (Rs. 70 crore), Karnataka Rights (Rs. 25 crore) and Kerala Rights (Rs. 15 crore).
Considering the hype around 2.0, it is being said that Rajinikanth and Akshay Kumar's film may earn somewhere around Rs 35 crore on its opening day according to early estimates.
2.0 trailer [Tamil and Hindi]