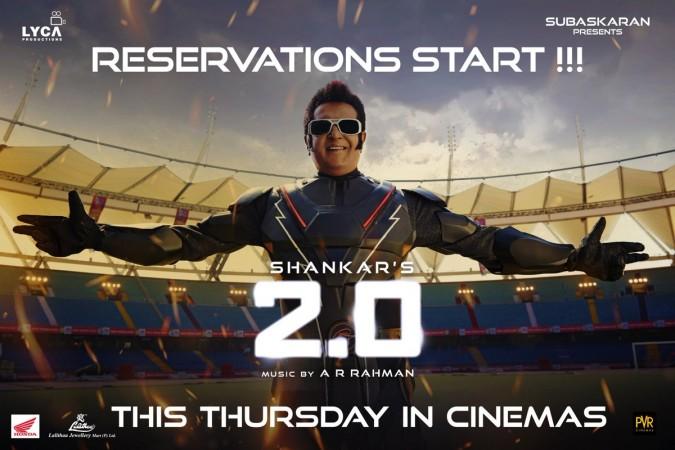 Director Shankar's movie 2.0 starring Rajinikanth and Akshay Kumar is expected to bigger and make better in Hyderabad than in Chennai box office, according to the predictions of the trade pandits.
Some reports suggest that 2.0 is set to release in over 10,000 in India and more than 40 international markets on November 29 and it is set to be the biggest release in the history of Indian cinema. Chennai and Hyderabad will be key cities, which will witness its massive release. As per the ads from newspapers, the movie will have more number of screens in Hyderabad than Chennai.
As per BookMyShow, 2.0 will be released in 35, 11 and two screens in Telugu, Hindi and Tamil in Hyderabad, respectively. Three days ahead of its release, the tickets for its Telugu version have already been sold out for some shows, while other shows are fast filling up. Its screen count is expected to be doubled and cross 100 screens as the film reaches its release date. It is likely to sell tickets for all show hours before its screening starts.
On the other hand, the distributors of 2.0 have apparently started the process of booking very late and the movie has less than 10 theatres booked for all three versions together in Chennai, according to BookMyShow. The film will have 33 shows in Mayajaal multiplexes alone on its opening day and this number is expected to go up. But the advance booking appears to be dull when compared to Hyderabad.
If you look at history, hardly one movie (Sarkar) has breached Rs 2 crore gross mark at Chennai box office on the opening day. As per early hype, 2.0 is expected to surpass Rs 3 crore gross mark in the city on its first day.
On the other hand, the Rajinikanth starrer is predicted to collect over Rs 6 crore gross at the Hyderabad box office on the first day and it is like to beat the record of Baahubali 2 (Rs 6.50 crore).
The distributors of 2.0 are very confident of its bigger opening and collections at the Hyderabad. PRO Vamsi Kaka tweeted, "Superstar Rajinikanth, Shankar & Akshay Kumar will be in Hyderabad tomorrow evening to address the Telugu Media. Expecting a Huge Opening (More than Tamil) in the Telugu states on November 29th."
Written by director Shankar, 2.0 is a sequel to Endhiran/Robot and it is the most-talked-about science fiction action film of 2018 in India. The flick features superstars like Rajinikanth and Akshay Kumar in the leads and it is released in Tamil, Hindi and English on the same date. Its promos have grabbed many eyeballs across the globe and it is undoubtedly the most-awaited Indian movie of the year.
According to the reports, Lyca Productions, which has bankrolled 2.0, has reportedly shelled out Rs 550 crore on its production and promotions. The huge hype surrounding 2.0 made its satellite and digital rights for unimaginable prices. Several leading distribution houses have its theatrical rights for various regions with either hefty advance amounts or with minimum guaranteed prices.
PVR - 50L #2point0
INOX - 25L
CINEPOLIS -35L
ASIAN - 25L
CARNIVAL - 25L
PRASAD - 10L
Remaining 30L+++
Total 2 CR
150 + single screens in Hyderabad take 100
100 × 1000 × 4shows × 100rs= 4CR
TOTAL 6 CR minimum Only hyderabad 1st day collection
#2Point0
Telugu people love rajinisir

— Krishna 2.0 (@krish77126) November 23, 2018