The Oval track looked good for batting and England started in a sedate manner. The Indian bowlers did beat the bat in the opening burst, but could not prize out a wicket. For the first time in the series, Keaton Jennings and Alastair Cook looked settled at the crease when Virat Kohli tossed the ball to Ravindra Jadeja, who had replaced R Ashwin in the playing XI.
Jadeja struck to get rid of Jennings, who tickled the ball to KL Rahul at leg slip and India had their first wicket.
'I did not want to concede boundaries'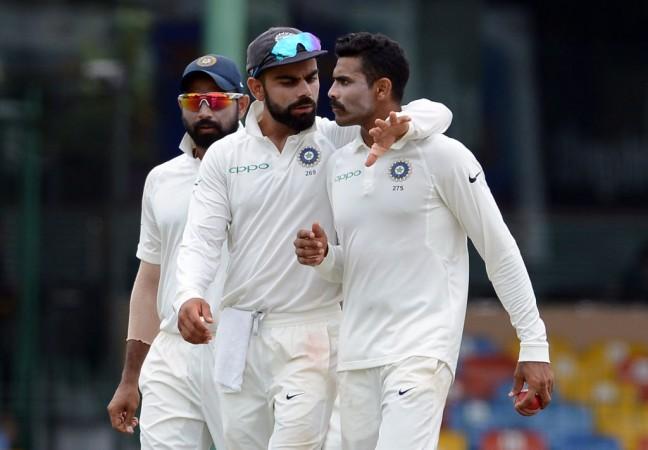 "It's difficult when you're not getting any help from the wicket on Day 1. The ball you're actually trying to bowl...it's not coming out that way. I was just thinking that Shami, Ishant and Bumrah were bowling well from the other end. They were beating the bat non-stop. I was just thinking that I shouldn't concede boundaries because if that pressure is released at one end, it becomes easy for the batsmen," he told reporters after the day's play.
While Jadeja does not jag the ball around, he is a clever bowler who relies on changes in pace and length to befuddle the batsmen. Also, The Oval track did not offer much assistance and the left-arm spinner was happy to play the waiting game. However, he got rid of Ben Stokes and India had staged a roaring comeback as the hosts lost six wickets for 65 runs in the session post tea.
"The way we'd set the field - bringing square-leg up, pushing deep mid-wicket wide - and with the ball not spinning much off the pitch, we knew sooner or later he would try the sweep shot. Actually, I'd spotted that he was already getting down (to sweep). So I bowled a full ball. And he didn't know if he should sweep or not and the bat didn't come out at all. It was a good wicket," he explained.
He also spoke about the bowling plans and said that the bowlers realised that there was not much assistance from the surface and hence decided to keep it tight and not allow runs to flow, a tactic which did pay off in the end.