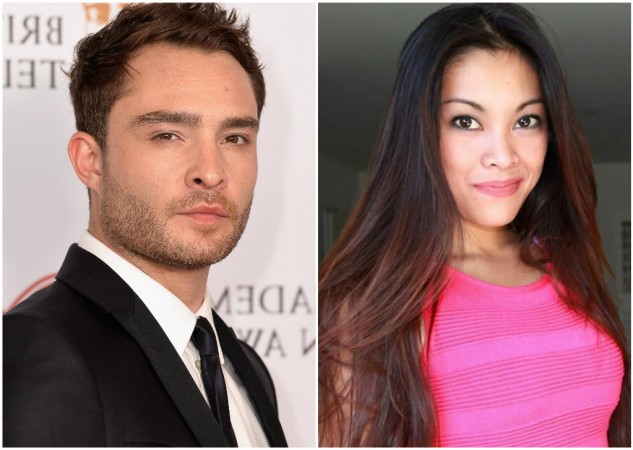 Another woman has come forward with allegations against Gossip Girl star Ed Westwick, accusing him of raping her in 2014. The news arrives just two days after Kristina Cohen accused the actor of rape.
Former actress Aurelie Wynn, whose stage name was Aurelie Marie Cao when she was in showbiz, followed Kristina's suit and took to Facebook to post about her encounter with Westwick. She claimed the actor raped her in July 2014.
Also read: Ed Westwick slammed with rape charges; Chuck Bass gone too far?
Her recount of the traumatic experience resembles that of Kristina's: Both have claimed they were sexually assaulted by the actor at his residence. Aurelie claimed she was at his home for a party and was raped after she fell asleep in a spare bedroom.
She also said she opened up about this to her then boyfriend, but he apparently didn't believe her. It didn't stop at just that as the then boyfriend also blamed her and broke up with her over this incident.
Aurelie also spoke about talking to her friends, but their response was collectively discouraging as well. They apparently told her not to go public as nobody would believe her, and moreover she wouldn't want to be "that girl".
However, she has now chosen to shed light on the incident, saying this:
This is the only part of the former actress' recount of the incident that differs from Kristina Cohen's claims, where the 27-year-old actress of Ladies like Us had opened up about her encounter with Westwick. Her friends have since separately corroborated her account.
Cohen opened up about the incident only two days ago via her Facebook account, posting a long, detailed story about how she was invited to Westwick's home in Hollywood Hills by her then boyfriend Kaine Harling, before she would go on to nap in the actor's guest bedroom and wake up finding him atop her.
The Los Angeles Police Department has now revealed that it is investigating Kristina's claims after a police report was filed by her on Tuesday morning.
The story has unfolded much like other prominent Hollywood stars' recent exposes, like Harvey Weinstein, James Toback and more recently, even Steven Seagal.
Kristina herself opened up about how the Harvey Weinstein accusations encouraged her to come forward with the claims after three years, saying:
And now Aurelie has thanked her for opening up and giving her the strength to do so too. "I am so incredibly thankful all of this is finally coming to light and that there is justice in the world," wrote Aurelie in her Facebook post.
She continued: "I believe you Kristina Cohen and thank you for speaking up so eloquently and really encompassing what young female actresses have to go through at the hands of men like Ed Westwick. Without you I would not have had the strength to speak up publicly about my ordeal. #metoo [sic]"
So far Ed, 30, has taken to his social media accounts to deny all claims made by Kristina Cohen. In an Instagram post, he wrote: