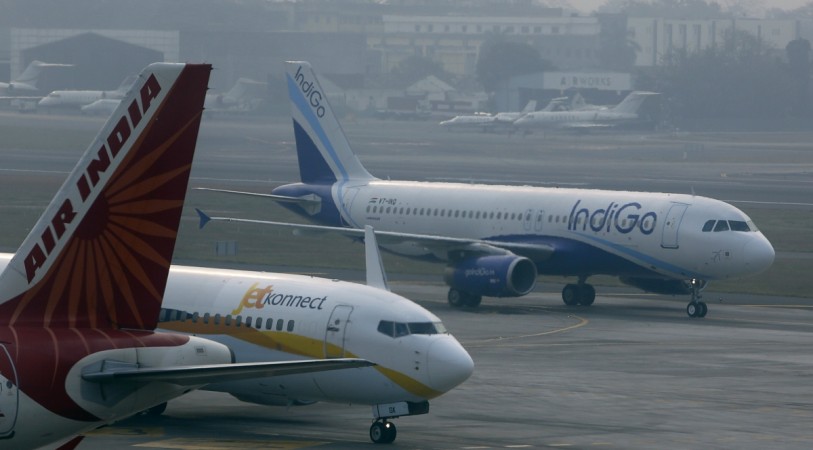 Domestic air traffic grew 24.26 percent in February 2016 in India to 74.76 lakh passengers, up from 60.16 lakh in the corresponding month last year. It, however, declined from 76.55 lakh in January 2016.
IndiGo, owned by InterGlobe Aviation, continued to maintain its position as the largest player, with 36.8 percent market share in February 2016, up marginally from 35.8 percent in the preceding month.
Jet Airways was the second at 18.4 percent market share, followed by national carrier Air India at 15.4 percent, while SpiceJet's share stood at 13.1 percent.
Other carriers — GoAir, AirAsia India and Vistara — had a combined share of 12.2 percent. Most of the carriers, except IndiGo saw their market share decline in February 2016 when compared to the preceding month.
The cumulative figure for the January-February 2016 period was 151.31 lakh passengers, up 23.4 percent from 122.61 lakh carried by Indian domestic airlines during the year-ago period, according to the civil aviation regulator, the Directorate General of Civil Aviation (DGCA).
In absolute terms, private carriers flew 63.22 lakh passengers, while Air India carried 11.54 lakh passengers, according to the DGCA.
The national carrier is expected to earn an operating profit of Rs 8 crore in the current financial year, the government had said earlier this week. In the previous year, it posted operating losses of about Rs 2,636 crore. The Modi government is considering selling 49 percent stake in Air India.
Passenger load factor
SpiceJet had the maximum passenger load factor (PLF) of 92.3 percent during the month, followed by Air Costa (87.1 percent). IndiGo and GoAir registered PLF of 86 percent and 86.4 percent, respectively.
The aviation sector had grown 22.58 percent to 76.55 lakh passengers in January 2016, up from 62.45 lakh in January 2015.
The aviation sector in India is probably the only industry witnessing consistent high growth at a time when many other industries are registering either sluggish growth or decline. A consistent fall in aviation fuel (ATF) prices has contributed to their operating margins, since ATF prices account for about 35 percent of operating costs of aviation companies.
Domestic car sales declined for the second straight month in February 2016 after growing for 14 months consecutively.