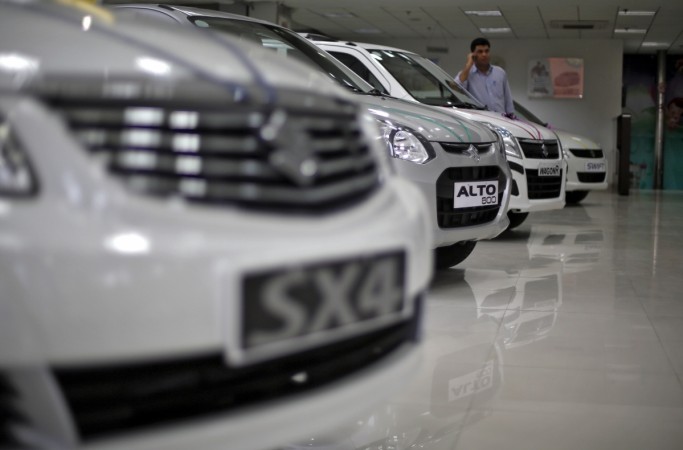 Passenger car sales in the domestic market witnessed the second consecutive fall in February 2016. The sales, which fell in January for the first time after a 14-month climb, saw the decline percentage widening to 4.21 percent from previous month's 0.72 percent.
According to the data released by industry body Society of Indian Automobile Manufacturers (SIAM), domestic passenger car sales declined to 1,64,469 units in February from 1,71,703 units in the same month last year, the Economic Times reported.
This is a significant drop compared to last month's fall of 0.72 percent. The major reasons that have reportedly affected the passenger car sales are production halt by several manufacturers in northern India due to agitation by the Jat community and the ban on sale of larger diesel vehicles in NCR. In addition to this, weak consumer sentiments on anticipation of the reforms in Union Budget 2016 may also be one of the reasons behind declining sales.
The SIAM report also indicates overall sales of passenger vehicles, including utility vehicles, saw a 1.68 percent rise to 2,34,154 units. Demand for two-wheelers has gone up with a growth of 12.76 percent to 13,62,219 units against the 12,08,084 units in February 2015.
The commercial vehicles also registered 19.93 percent growth to 62,359 units as against 51,998 units same period last year. Vehicle sales across categories (passenger cars, two-wheelers, commercial vehicles) registered a growth of 11.76 percent at 17,03,688 units last month against 15,24,395 unit in February 2015.
"A drop in sales after festive season and year-end sales is expected. The good news is the two-wheeler sales is picking up after slow sales for the past couple of months. Going forward, the proposal of infrastructure cess will be a challenge for the automakers. For bigger vehicles, the Supreme Court's decision after the ban in NCR getting over on March 31 will be crucial," Abdul Majeed, partner at PricewaterhouseCoopers, told International Business Times, India.
Many automobile companies have already increased prices of its cars after it was proposed in the Union Budget that infrastructure cess will be increased by up to 4 percent. It remains to be seen whether this tax will add more misery to the already-sluggish sales in the coming months.