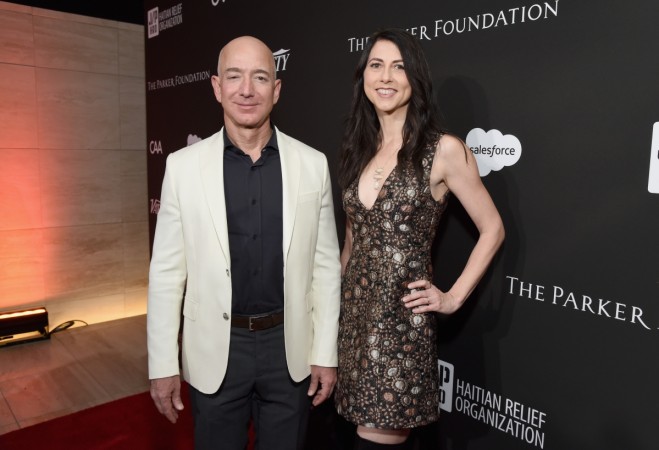 MacKenzie Bezos will, in all likelihood, become the richest woman in the world when her divorce with Amazon mogul Jeff Bezos is completed.
Bezos became the richest man in the world in October 2017, dethroning Microsoft founder Bill Gates. Bezos' wealth is valued at $136 billion.
If the assets are divided equally, MacKenzie is set to receive $69 billion, thus making her the richest woman in the world. Apart from the money, the Bezos will also have to divide their 400,000 acres of real estate and their 16 percent stake in Amazon. Bezos is also the proprietor of Washington Post.
According to a report by Bloomberg, even if MacKenzie receives 1 percent of Jeff's money, she will still have at least $1 billion.
At $69 billion, MacKenzie will have more wealth than Francoise Bettencourt Meyers, the heiress of L'Oreal, who is currently valued at $45.6 billion.
However, neither Jeff nor MacKenzie has commented on how they will spli their assets.
Who are the top five richest women in the world?
Currently, the world's richest women have either inherited their wealth from either their parents or from husbands.
Alice Walton
Alice Walton, daughter of Walmart founder Sam Walton, comes second in the list, valued at $43.6 billion.
Jacqueline Badger Mars
Next is Jacqueline Badger Mars, the granddaughter of Mars Inc. founder Franklin Clarence Mars, whose net worth stands at $33.3 billion.
Susanne Klatten
Susanne Klatten of BMW inherited the company along with her siblings from her parents and is valued at $19.9 billion.
Laurene Powell Jobs
The fifth in the list is Laurene Powell Jobs, the widow of the late Apple founder Steve Jobs. She is valued at $18 billion.