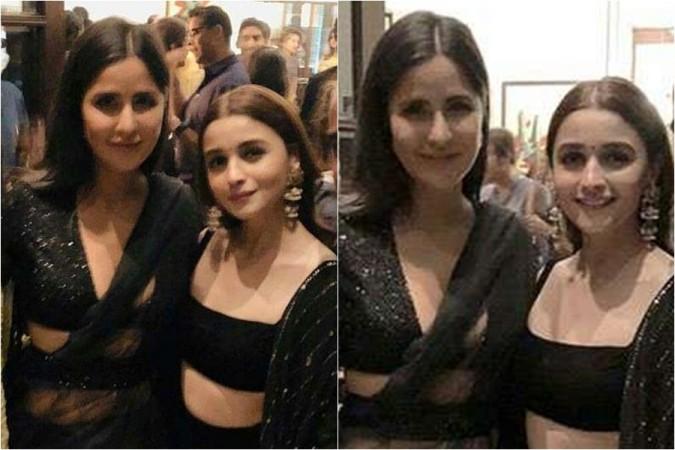 Earlier this year, there were reports that Katrina Kaif was not happy with her BFF Alia Bhatt hanging out with Ranbir Kapoor. While the two have always maintained that they have been very good friends, things went awkward when Alia and Katrina came under the same roof at Shah Rukh Khan's Diwali bash at Mannat.
Though Katrina and Alia exchanged pleasantries and even clicked a picture together, the two hotties of Bollywood apparently shared cold vibes which were quite evident to the people around them.
"It's not that Alia and Katrina cannot see eye to eye but they are not friends for sure. The two came under one roof last night and exchanged pleasantries, that's all. They even clicked a picture together (which is doing the rounds of social media) however, clearly, hung around in different groups and the cold vibes between them were palpable to those around them. Katrina exited the party before Alia," an eyewitness was quoted as saying by Spotboye.
Alia Bhatt and Katrina Kaif have been close friends. The duo appeared on BFF'S Vogue together and said some amazing things about each other. But it looks like there's more than what meets the eye between them.
Meanwhile, reports suggest that Ranbir and Alia, who have been dating for a while now, have reportedly decided to tie the knot in 2019.
Unlike Ranbir Kapoor's past girlfriends, the Kapoor family has welcomed Alia with open arms. Reports suggest that though marriage is on the cards for Ranbir and Alia, they will decide their marriage date once Rishi Kapoor recovers from his illness.
While Ranbir has always openly spoken about his relationship with Alia, the latter hasn't spoken about her future plans. However, reports state that Alia is all for marriage and will continue to work in films unlike other daughters-in-law like Neetu Kapoor and Babita who gave up their acting careers after getting married in the Kapoor clan.