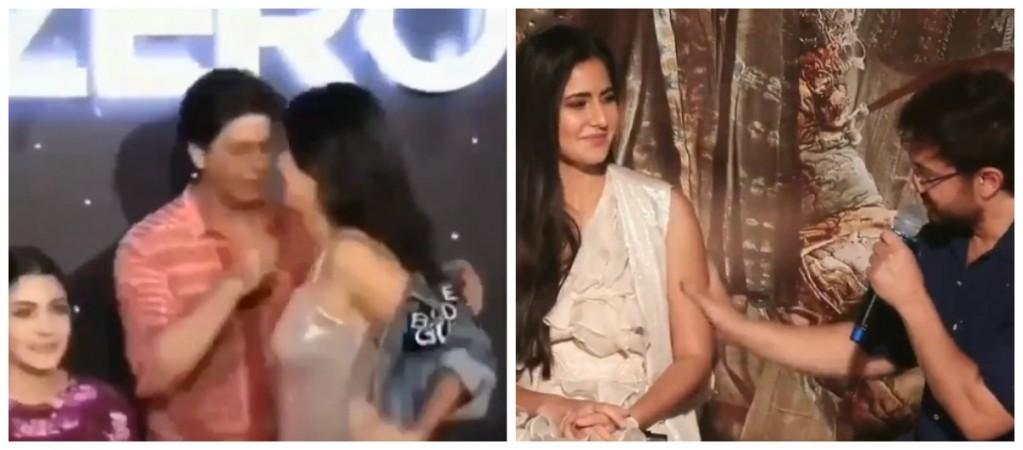 Shah Rukh Khan has been criticised by some on social media for his act of removing Katrina Kaif's jacket and wearing it himself during the trailer launch event of Zero. Aamir Khan too faced heat for one of his acts involving the same actress during a different event.
Katrina appeared at the trailer launch of Zero wearing a denim jacket with a silver dress inside. During the event, Shah Rukh suddenly went to her and asked her to give her jacket to him. He almost removed Katrina's jacket himself, while the actress was apparently reluctant to get it off.
Shah Rukh then wore it and justified his "funny" act saying, "khoobsurti chupi acha thodi na lagta hai yaar (beauty should not be kept hidden – rough translation)". This act of SRK did not go down well with many.
A lot of people slammed the actor for this deed, saying that it was inappropriate and disrespectful on his part to publicly remove Katrina's jacket when she herself was not willing to.
On the other side, Aamir Khan during the trailer launch of Thugs of Hindostan some days ago was seen making a gesture and comment involving Katrina that also raised eyebrows.
Aamir was seen saying that he gets extra pleasure in working with Katrina, and pressed her arm while saying so. Many found his action highly inappropriate, and some even called him a pervert. However, in both the cases, Katrina did not react much, but just laughed those off.
You can watch the two videos below, and the criticizing comments made on Twitter.
Our Gentlemen Aamir Sir..
How Sweetly And He Says "Katrina Ke Sath To Kuch Zyada Hi Maza Aata Hai" With Touching Her Like A Pervert...?@aamir_khan You Are The Most Gentlemen Person In Bollywood ??pic.twitter.com/Q85BDVd7xt

— Deadpool (@iSRKsDeadpool) October 13, 2018
Katrina was reluctant to open the jacket. Dissapointed with this kind of action by SRK. Ermmmm. ? Please respect her as a woman, you can't simply do that. ?‍♀️ pic.twitter.com/OXrdZfaFA6

— ♓ MIRA ♓ (@mirabellaamira) November 2, 2018
The body language of Katrina says it all. She did not wanted to but SRK literally forced her to take off the jacket. Even after watching the full video, don't behave blind

— keshav kumar (@keshavk789) November 4, 2018
And it was sexist too, forcing Katrina to open her jacket, so that he could objectify Katrina's body. Not the first time SRK has done this. In a book launch celebrating women leaders, SRK had made disgusting sexual remarks. Irony was the book launch was to honour women leaders pic.twitter.com/2AycwlAN58

— keshav kumar (@keshavk789) November 4, 2018
The way Srk asked Katrina to take off her jacket and give it to him.
Cringe , cringe and more cringe.??

— ☄️ (@Vipultweets_) November 3, 2018
okay so srk made katrina take off her jacket and said khoobsurati chupi rahe achi thodi na lagti hai on the mic. what...

— shitpost enthusiast (@ginaismygod) November 2, 2018
Wo Jacket Katrina Utarna Nahi Chahti Thi Because Wo Clothes Me Sayad Wo Thodi Uncomfortable Thi Ye SRK Aamir Dono Ek No Tharki He Agar Yahi Clothes Agar Anushka Ne Pahna Hota Aor Uspar Jacket Pahna Hota To SRK Kabhi Uska Jacket Nahi Nikalta Agar Katrina Ki Jagha Deepika Hoti

— Niki _Love Salman Khan (@Purani_niki) November 2, 2018
@aamir_khan u dropping out of a movie cause of #MeToo is very ironic, you should say sorry to Katrina for inappropriately touching during the #toh trailer press

— ???‍♀️whasabboo ?? (@whasabbi) October 11, 2018
Meanwhile, Katrina is all set to be seen on the big screen with two massive films. First, she will feature in Aamir's Thugs of Hindostan that is slated to be released on November 8, and then she will share screen space with Shah Rukh in Zero on December 21.