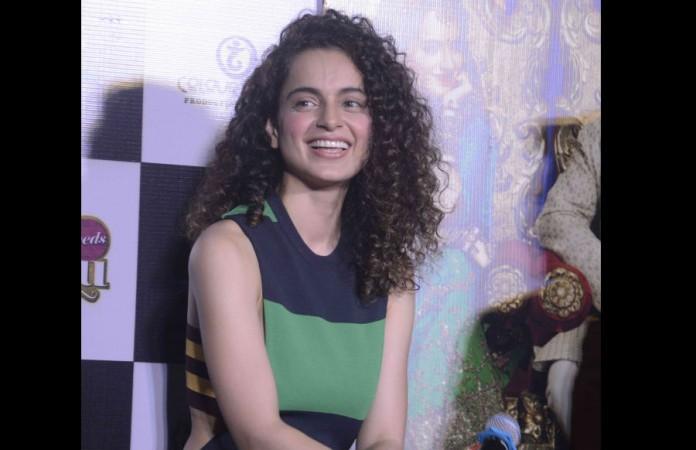 Kangana Ranaut, who has always maintained her stand of not working with the Khans of Bollywood, has now said that working with Salman Khan, Shah Rukh Khan or Aamir Khan will kill the longevity of her career.
Karan Johar lashes out at Kangana Ranaut; asks her to leave Bollywood
In an interview with Rajeev Masand, Kangana was asked if she sees career longevity without working with Khans, and the actress said that there is no longevity working with the trio.
The Rangoon actress feels that working with Salman, Shah Rukh or Aamir will not help her growth in the industry.
In fact, there is no longevity with working with the Khans. I feel it's the other way around because what I am today and where I stand today as the leading lady, doing a film with Khan will not take me a notch higher. What can it give that I have not already achieved? I can't see a single thing," Kangana said.

"I have popularity, I have built a fan-following of my own, so the only way I can last is growth. And that growth I can get only if I go a notch higher than my last film. The man is always the hero in a Khan film."

"When I am already doing films that give me the possibility of building a brand of my own individually, it will be very stupid of me to go and stand behind someone else. The growth that I already have, it cannot go beyond that," she added.
When she was asked if this attitude makes her unpopular with the Khans, Kangana replied in negative and said that this is just a professional strategy. The outspoken diva added that it is unfortunate that she and the Khans will never cross paths.
Not really. Aamir is very kind. He is always very kind to discuss his films and scripts with me. It's not that when I am around them I have a different attitude. It remains the same and I am being very rational. Until Queen I was very open to work with Khans. It's only after Tanu Weds Manu that I realised that if I am not the hero now in a film, it will disappoint everyone,"

"It's a very professional strategy that I have adapted, which has no personal, emotional baggage that it carries. I am huge fan of Shah Rukh sir and it's very unfortunate that our paths will never cross."

"I met Salman the other day and he was very excited about Rangoon. It's not that our relationship has savoured or anything. I am sure they also feel the same way, it's very unfortunate. But I am so inspired by them," she added.
Although it sounds justified enough, we wonder what all the top actresses who have worked with the big Khans till date will think about Kangana's opinion. Watch the full interview here: