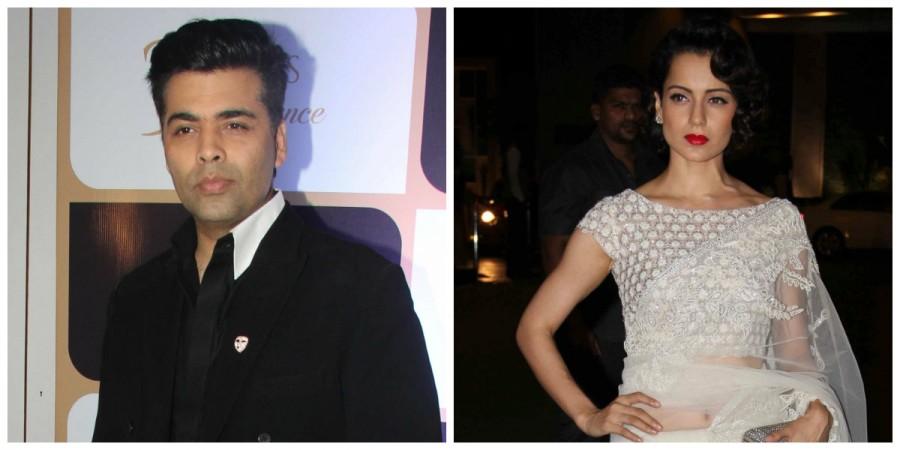 Karan Johar has now hit back at Kangana Ranaut after the latter had called the film-maker "flag bearer of nepotism" and "movie mafia." Karan targeted the Rangoon actress saying that she should quit the industry if she has so many problems with it.
I was lying on my stomach naked, says Kangana Ranaut
Kangana had appeared on Koffee with Karan season 5 recently where she threw criticisms at Karan, but in a subtle manner. Showing her outspoken nature, the actress had said that Karan is intolerant towards outsiders and he is running a "movie mafia."
Talking at the London School of Economics, Karan lashed out at Kangana. "She (Kangana) was my guest and I had to hear what she had to say. She has a right to have an opinion. When she says 'Flag bearer of Nepotism', I just want to say her, I am glad she knows what it all means. I don't think she has understood the entire meaning of the term. What is nepotism?
Am I working with my nieces, nephews, daughters, cousins? And what about those 15 filmmakers, who are not from the film industry, who I have launched and who did movies. That we are not going to talk about. Tarun Mansukhani, Puneet Malhotra, Shakun Batra, Shashank Khaitan – they all come from no film background. You give these people film careers and they have a platform to stand on and that's the reverse of nepotism," Karan said.
Taking a jibe at Kangana for calling him "movie mafia," Karan even said that not working with her does not make him a "movie mafia" as it is his choice if he is interested to work with Kangana or not.
"We launched Alia Bhatt and Varun Dhawan in Student of the Year but that's just two of them who I have introduced. Sidharth Malhotra is also one-third of the trio, and he had nothing to do with movies, so I didn't get what she meant. But when she said 'movie mafia', what does she mean? What does she think we are doing – sitting here and not giving her work? Is that what makes us a mafia? No, maybe that was my choice. At the end of the day, maybe I am not interested in working with her. That doesn't make me movie mafia; that makes me a man with an opinion," Karan continued.
"I appreciate that she had a great perspective and point of view and everyone lauded her when she came on my show and 'gave it off to Karan', according to what everyone said, and I am like, of course, because I have been gracious enough to keep everything. I cut out none of it. I kept all of it, as it is. I could have edited out so much out of it, as it's my show. But I said, 'No, let the world see this. This is her opinion, she must say it and voice it. I gave her the platform," the My Name Is Khan director added.
Karan concluded the discussion saying that Kangana cannot play the victim card all the time and she should leave Bollywood if she has so many issues with the industry. "I am done with Kangana playing the woman and victim card. I am done. You cannot be this victim at every given point of time who has a sad story to tell about how you have been terrorised by the bad world of the industry. Leave it," he said.