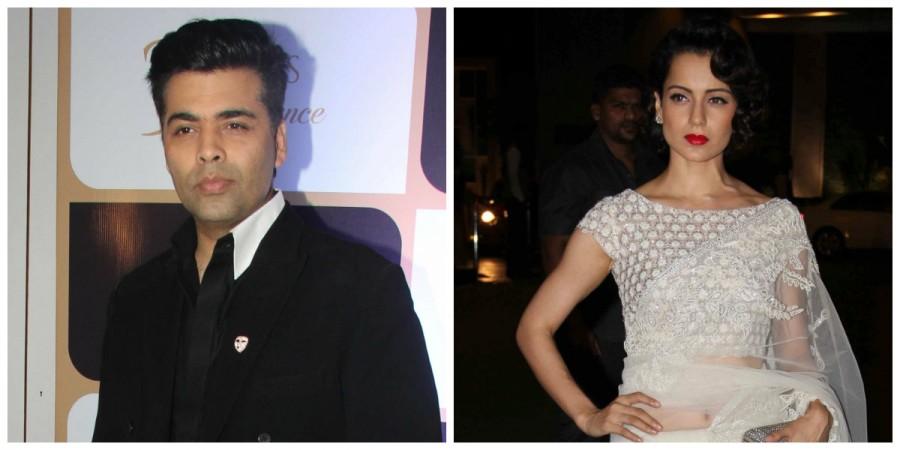 Looks like the blame game between Karan Johar and Kangana Ranaut is here to stay. Earlier this week, Karan, while speaking at an event at the London School of Economics, attacked the actress saying that he was done with her pulling out the "woman card" and "victim card" all the time and if she thinks that the industry is so bad then she should just leave.
Kangana Ranaut vs Karan Johar: Here are 5 times Kangana's honesty shocked Bollywood!
KJo's strong response came after Kangana unabashedly called him "the flag-bearer of nepotism" and "movie mafia" on his talk show Koffee With Karan 5, in which she was invited as a guest along with her Rangoon co-star Saif Ali Khan.
And now, Kangana has responded to his accusations. Talking about Karan claiming that Kangana doesn't really know the meaning of nepotism as he has not launched any of his family members, the Queen actress told Mumbai Mirror: "I can't speak for Karan Johar's understanding of nepotism. If he thinks that it is restricted to nephews, daughters and cousins, I have nothing to say. But, to say that he chose not to give me work is to mock an artiste. As importantly, his memory appears to be poor because we worked together in a movie (Ungli), which was produced by him. And quickly realised our sensibilities did not match."
On being asked why Karan believed that he gave her the platform to "give to off to him" on his show, the actress said that she has been on several platforms with several global icons and doesn't understand why the filmmaker believes that it was he who gave her the opportunity to speak her mind. Also, she pointed out that the filmmaker discredited her as an artiste by saying that he helped her voice her opinion through his show.
Kangana further said that she was a little taken aback when the Badrinath Ki Dulhania producer said at the same event that he was "gracious enough" to have not edited out her statements. Being the bold and outspoken actress that she is, Kangana said that her statements were not edited because the channel wants TRPs and Karan is just a paid host.
About Karan's suggesting to her that she should leave the film industry, Kangana said: "The Indian film industry is not a small studio given to Karan by his father when he was in his early 20s. That is just a small molecule. The industry belongs to every Indian and is highly recommended for outsiders like me whose parents were too poor to give me a formal training. I learnt on the job and got paid for it, using the money to educate myself in New York. He is nobody to tell me to leave it. I'm definitely not going anywhere, Mr Johar."