In a disturbing video that surfaced on the internet on Tuesday (July 10), a man can be seen ferrying his mother's dead body to a post-mortem centre in Madhya Pradesh on his bike after he was denied an ambulance.
The incident took place in the Tikamgarh district.
Here's what happened
The deceased woman, who has been identified as Kunwar Bai, was bitten by a snake in the Mastapur village on Sunday (July 8). Her son, Rajesh initially wanted to take his mother to a temple to treat the bite but was advised by locals to take her to community health centre at Mohangarh.
However, she died during her treatment. The local police then told the Rajesh to take his mother's body to a post-mortem centre at Tikagamgarh district headquarters, which is about 35km away from the village.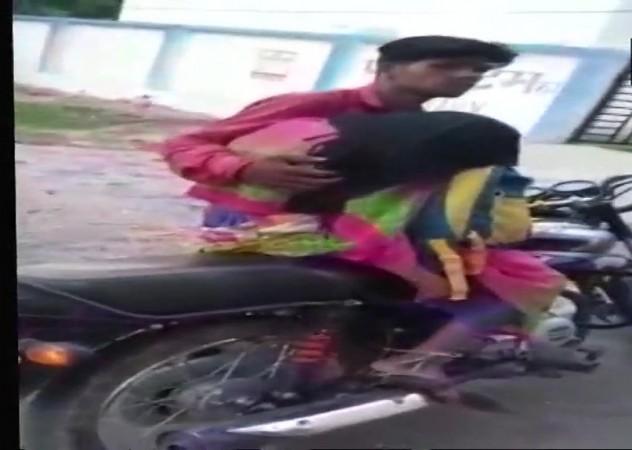 Rajesh called up the post-mortem centre but was refused an ambulance. He then tied his mother's body on his motorcycle and rode all the way to the autopsy centre, reported Hindustan Times.
In a 30-second-long video, Rajesh can be seen standing outside the post-mortem centre, with his mother's body slumped against him. The woman's leg is also seen tied to the motorbike with a rope.
Fortunately, during their return journey to the village, Rajesh was provided a hearse to transport the body.
According to the district collector Abhijeet Agrawal, had Rajesh dialed 108 for an ambulance service, he would have been provided with a hearse.
Here's the video of the incident:

In March, a 37-year-old woman died while her husband was taking her to a hospital on a handcart in Uttar Pradesh's Mainpuri after a hospital allegedly refused to send an ambulance.
The hospital, where he had taken his wife to also refused to provide him with a hearse van to ferry her back to their village.