A 37-year-old woman died Monday while her husband was taking her to a hospital on a handcart in north Indian state of Uttar Pradesh's Mainpuri after a hospital allegedly denied to send an ambulance.
The 35-year-old woman named Soni had complained of breathlessness. She died on the way to the Tej Singh District Hospital, which is 8 km away from her village.
"I called for an ambulance to go to the hospital. But when it did not arrive, I took her to the hospital in my handcart," her husband Kanhaiya Lal was quoted as saying by the Indian Express.
To add to the agony, Lal was denied basic medical facilities for a second time that day.
"I asked them for a hearse van to ferry the body home but was denied by the hospital authorities. I had no choice but to cart the body in the same way that I had taken her to the facility. She would have been alive if medical aid was provided to her in time," the Times of India quoted Lal as saying.
Hospital says it didn't receive any call for an ambulance
The Uttar Pradesh Health Department's Principal Secretary Prashant Trivedi said Lal had not called 108 — the ambulance service helpline number.
"A probe conducted by Mainpuri DM (district magistrate) Pradeep Kumar has found that the person did not make any call to the '108 ambulance' service... He might have called the hospital or some other number... He is very poor and does not even have a phone... The incident is unfortunate," Trivedi told the Indian Express.
However, Trivedi confirmed that a hearse was indeed not provided to Lal.
"It is true that while returning home, he had asked for an ambulance but the hospital employees, who should have guided him on how to get a hearse van, did not do so," Trivedi said.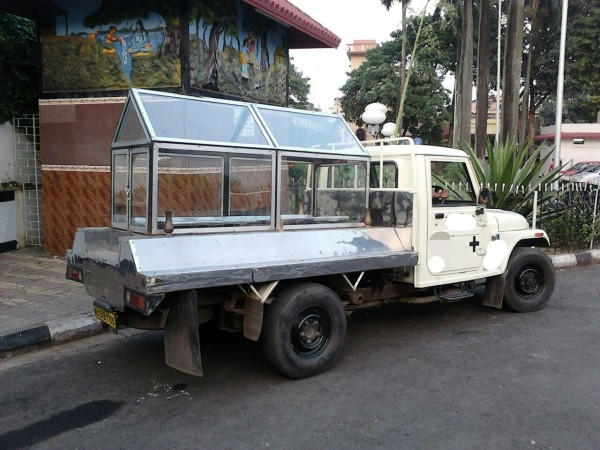 On the other hand, the hospital's Chief Medical Superintendent RK Sagar said Lal had never asked the hospital authorities for a hearse van.
The hospital authorities are currently investigating the incident.
This incident comes just a few days after a four-year-old sick child died while being taken to a hospital on a bike after a local health center in Madhya Pradesh failed to provide an ambulance.