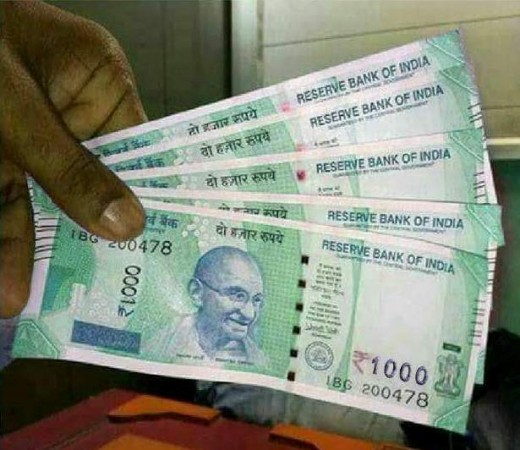 Ever since Prime Minister Narendra Modi announced the scrapping of Rs 500 and Rs 1,000 currency notes from November 8-9 midnight, and it subsequently came to light that the Reserve Bank of India (RBI) was releasing new currency notes, people have been curious as to what they will look like.
With the new Rs 2,000 and Rs 500 currency notes already out, speculation has been rife that the new Rs 1,000 note will be releasing soon. For quite some time now, photos of the purportedly newly-redesigned green-colour Rs 1,000 currency notes have also been doing the rounds of social media but are these the real deal?
Are these notes real?
On the face of it, there is little to suspect that these notes are not real. After all, the new designs of the Rs 500 and Rs 2,000 currency notes had already hit social media platforms like Twitter and Facebook as early as November 8 itself, two days before they were made available to the public on November 10.
Therefore, there has been speculation that these may very well be original. However, a couple of things in the image point out that these are fake — actually bad photo manipulations done on image-editing software like Adobe Photoshop. Take a look at the photos, and see if you can find the indicators. If you can't find them, read on.
The Reserve Bank of India has started printing Rs 1000 note on a pilot basis. But RBI has no plan to roll out these new Rs 1000 immediately. pic.twitter.com/apujnVeQdM

— ?Sunikar Reddy✨ (@SunikarReddy) December 16, 2016
Why these images are fake
There are at least three glaring errors in these notes. The first is that the denomination on the notes written above Mahatma Gandhi's photo in this image in Devnagari script — in Hindi — says "do hazaar rupaye," or two thousand rupees.
The second error is in the numerical denomination of the notes written near the thumb of the person holding them. Look closely, and you will see that the "1" in the "Rs 1000" written there is upside down. Also, given the new design of the Rs 500 and Rs 2,000 notes, that number should also be in Devnagari.
The third is the number of slanted lines on the left and right-hand sides of the notes. These seem to be the same as on Rs 2,000 currency notes. All in all, the image seems like a badly photoshopped version of a person holding Rs 2,000 currency notes, whose entire features have been discussed on International Business Times, India, earlier.
Bottomline: The notes seen in these images are fake.
PS: There are other images of purportedly new Rs 1,000 currency notes circulating on social media, and these may just turn out to be the real deal.