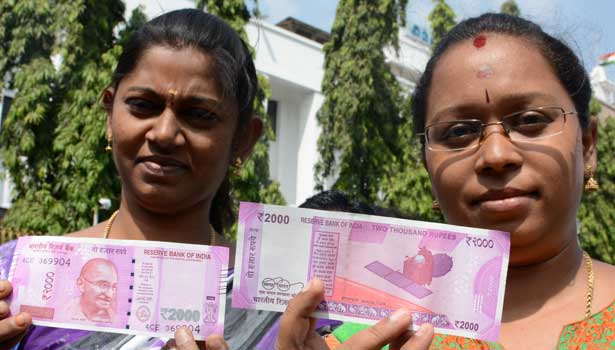 Economic Affairs Secretary Shaktikanta Das on Tuesday said that indelible ink, similar to the ones used when casting a vote, will be used to curb the problem of long queues at banks. The indelible ink mark concept will begin from Tuesday in major cities.
According to Das, the government has come to the conclusion that the reason for long queues outside banks and ATMs is that people have been coming to withdraw or exchange money multiple times. There are also reports that "certain unscrupulous elements who are trying to convert their black money to white money" have constituted groups of people who are sent to exchange notes.
"The facility of withdrawal of cash is getting restricted to a smaller number of people thereby denying the opportunity to another person who has not been able to reach the counter to withdraw cash," Das said.
Therefore, Das said that the government has decided to "resort to the use of indelible ink marks for disbursement of cash across counters, that is, over the counter exchange of cash of old notes of Rs 500 or Rs 1,000 for new notes." He added that this suggestion of using the ink to mark people who have taken new notes was "considered internally," but was rejected.
But, since the problem of long queues still persists, indelible ink will be used to prevent misuse of such facilities and also to "prevent certain syndicates and unscrupulous influential persons" from sending people to banks for multiple withdrawals, Das said. Bank managers and bank branches have also been advised to keep a "close watch" on such people and prevent such things from happening.
Das briefed the media again on Tuesday over the demonetisation of the Rs 500 and Rs 1,000 currency notes and the steps taken by the Narendra Modi government to make it easier for citizens to carry out transactions.
The DEA secretary said that the government has seen Jan Dhan accounts being used to deposit money in several cases. A limit of Rs 50,000 has been put on deposits in such accounts that will be closely monitored.

"I want to make it clear that any legitimate deposit will not be put to any inconvenience. People who are legitimately operating their Jan Dhan accounts will not be put to any kind of difficulty," Das said. He also requested people to not allow themselves to "be used by other people for putting their money into these accounts or convert their black money to white money."
A special task force has been set up "to draw a plan of action for shifting and storing of old notes to other places so that post offices and bank branches can get new notes." The force has also been given the responsibility of making sure there is no "infusion of fake currency notes in the system, especially in the vulnerable areas," which have been identified by agencies and will be closely monitored.
Das also said that intaglio paint has been used on the old notes which will fade if you rub the currency note with cotton. If the colour doesn't fade, then it is a sign of fake currency.
A technical team has also been put in place "to popularise the use of e-wallets and activate the recalibrated ATMs as early as possible." The cabinet secretary will head a coordination group that will include senior representatives of banks to monitor the implementation of all the measures taken by the government since the demonetisation was declared, Das said.
He added that the government has also encouraged places of religious worship that receive cash donations, mostly notes of smaller denominations, from devotees to deposit that money in banks so that there is a "larger number of smaller denomination notes" in the banking systems to be dispensed to the general public.
Das requested the public to not believe in false stories of banks and other institutions going on strike or being shut. He also requested them to not panic as the situation is improving every single day.
When asked about hospitals and pharmacies not accepting the old currency notes and the deaths reported due to demonetisation, Das said that the government will look into the matter if a specific instance comes to light. As of now, the government has no knowledge of such instances.