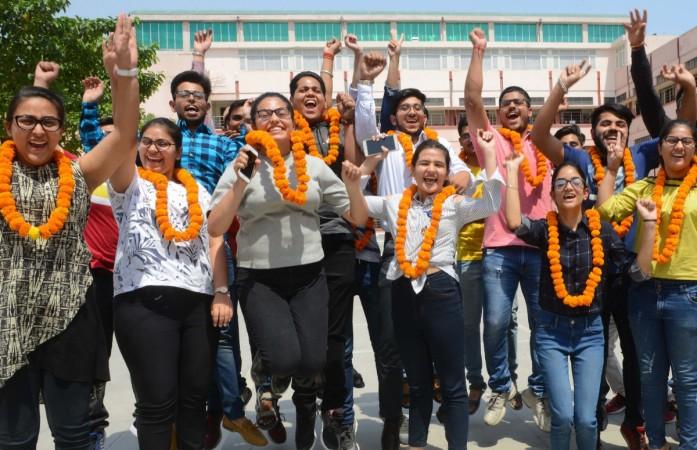 The Central Board of Secondary Education (CBSE) class 10 and class 12 results are out and this year five students, including one from class 12 and four from class 10, have scored 499 marks out of 500.
Meghna Shrivastava of Step by Step School, Ghaziabad, Uttar Pradesh, scored 499 out of 500 in CBSE class 12 exams. Prakhar Mittal of DPS Gurgaon, Rimzhim Agarwal of RP Public SCH, Bijnor, Nandini Garg of Scottish International School, Shamli, and Sreelakshmi of Bhavan's Vidyalaya Cochin, are the four toppers of CBSE class 10 exams.
Mittal lost one mark in French paper and Shrivastava lost one mark in English paper.
While the 499 marks out of 500 stand out as a really big deal for students, several are left stunned or curious with questions like "Why the toppers lost only one mark?" or "Why is the one mark missing?"
Well, one needs to understand that howsoever brilliant the child may be it is not possible to score full marks in arts, sciences and languages and that is where Mittal and Shrivastava lost the one mark.
"It is a given that teachers do not bestow full marks in subjects like English and second language papers. It is only because language is a subject where a student of 10th or 12th has not mastered completely. It is not as though you can set out to write a book or become a poet. There is always a need to learn more. There is always room for improvement. Which is why a lot of students do not get full 500/500," Ranjit Kaur Sahmey, who is a school teacher in Uttar Pradesh, told International Business Times India.
"On rare occasions, students also miss out marks due to their practical papers. In subjects like science, they fall short by a mark or even half if they have submitted their assignments late or do not perform well in their viva," Meena Kumari, a school teacher in Chennai, told IBT India.
Since four students of class 10 scored 499 out of 500, it means they got full marks in one or two languages.
This year, a total of 1,408,594 students out of 1,624,682 have passed, which brings the pass percentage to 86.70 percent. According to the statistics, 88.67 percent girls and 85.32 percent boys have passed.