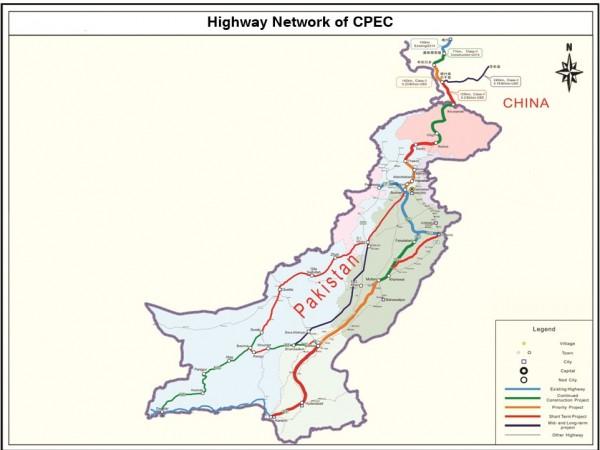 The $52 billion China-Pakistan Economic Corridor (CPEC) has hit a hurdle after Pakistan's National Highway Authority (NHA) purportedly ran out of cash to pay the contractors, according to a Pakistan media report.
Dawn, an English daily, says contractors have stopped work on many road projects related to CPEC after cheques worth over Rs 5 billion bounced a few days back.
The projects affected by this development include: Hakla-Dera Ismail Khan, Western Route and the Karachi-Lahore Motorway.
Local industries catering to the construction as well as engineers and workers have been hit hard by the prevailing situation, says the report.
According to a spokesperson of the NHA, the authority issued cheques worth Rs 5 billion (Rs 500 crore) to firms after getting government's sanction on June 29.
Cheques worth Rs 1.5 billion were cleared the same day but the remaining cheques which were deposited the next day could not get cleared.
The spokesperson said the government has been apprised of the matter and a resolution will be found soon. When asked about the stoppage of the work by the contractors, he said the projects have been progressing satisfactorily and they would be completed by the end of the year.
CPEC spans 3000km and connects Kashgar in western China to Gwadar port in Sindh, Pakistan, and is a bone of contention between India and Pakistan as it passes through Pakistan occupied Kashmir, which India considers its territory.
In an interview to South China Morning Post in March, Gautam Bambawale, India's ambassador to China, said India had no issues if CPEC meets norms of an international programme like respecting territorial integrity of a country.
"CPEC violates India's sovereignty and territorial integrity and that is why we oppose it," Bambawale told the South China Morning Post.