As Prime Minister Narendra Modi and his Japanese counterpart Shinzo Abe look forward to laying the foundation stone for the first-ever bullet train in India, China on Wednesday said it was "pleased to see" the development and infrastructure cooperation between the two countries.
"China is pleased to see the infrastructure cooperation among regional countries, including the high-speed railway... And we stand ready to promote cooperation with India and other regional countries to promote regional development," Chinese Foreign Ministry spokesperson Geng Shuang said.
He said the cooperation in the railway sector "is part of political cooperation between China and India."
"We have reached important consensus in this regard. According to my information, the relevant competent authorities between the two countries have mainlined communications on promoting, increasing the speed of the railway in the current projects," Shuang said.
China's statement comes after Japanese PM Abe landed in Ahmedabad on Wednesday to lay the foundation stone for the Ahmedabad-Mumbai bullet train and hold talks with PM Modi at the 12th India-Japan Annual Summit at Mahatma Mandir in Gandhinagar on Thursday.
The bullet train in India, which will use the same technology used in Japan's Shinkansen trains, is part of the High-Speed Rail project and is expected to go operational by 2023. The project is estimated to cost around Rs 110,000 crore.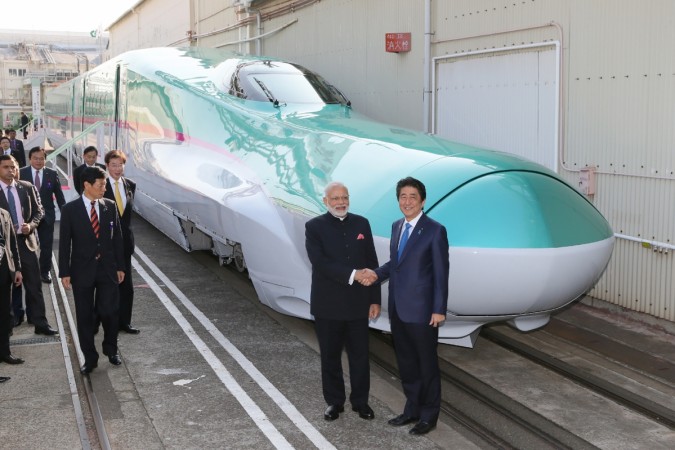 Most of the project will be funded by Japan "on very soft terms... under the Overseas Development Assistance (ODA)" while the Gujarat government will bear 25 percent of the total cost. Japan will also transfer the technology to India to give a boost to PM Modi's 'Make in India' initiative.
China and Japan have been competing with each other for the development of bullet trains in India and other regional countries. Both countries are currently the biggest exporters of HSR technology, with China beating Japan in grabbing projects in Indonesia and Thailand.
Japan's Shinkansen bullet train network is way ahead of China's but since 2008, the latter has rapidly installed over 20,000 km of HSR track, making it the world's longest bullet train network.
China's statement comes more than two weeks after the 71-day long military standoff between India and China in the Doklam region of Sikkim came to an end through diplomatic channels.
Last month, Japan had faced the wrath of China for supporting India on the border standoff and said China must not try to change status quo in the region. Adding that Japan must not make "random comments", the Chinese foreign ministry had said "the Japanese ambassador in India might really want to back India, but I want to warn him not to speak carelessly before he is fully aware of the facts."
Concerns were also raised over Abe's visit to India amid the standoff. Hu Zhiyong, a research fellow at the Institute of International Relations of the Shanghai Academy of Social Sciences, told the Global Times last month that this was Japan's way of confronting China.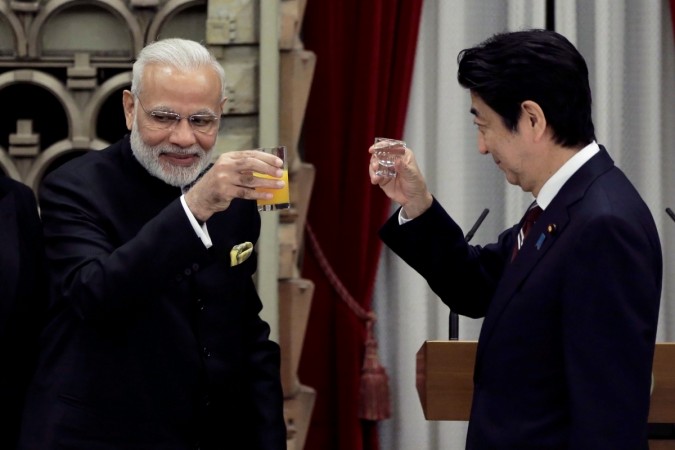 "India and Japan see China as a common opponent ... they have been strengthening cooperation on nuclear issues and national defense as well as forming the 'freedom corridor' to rival China's Belt and Road initiative. Japan's public statement at such a sensitive time is to strengthen India's dependence on Japan and to counteract the pressure from China in the East China Sea," Zhiyong had said.
In August this year, state-run Chinese daily Global Times had said Indian products would take at least 10 years to catch up with Chinese goods.
"There are complex explanations for the cost advantages of made-in-China products, such as complete domestic industrial chains, which can help cut production costs. India has long wanted to replace China as a global manufacturing hub but that goal cannot be achieved overnight," the editorial had said.