Prime Minister Narendra Modi and his Japanese counterpart Shinzo Abe will arrive in Gujarat's Ahmedabad on Wednesday. The two-day visit of the Japanese prime minister will witness the first-of-its-kind roadshow by both the leaders from the city's airport to the iconic monument Mahatma Gandhi's Sabarmati Ashram. It would also see the laying of the foundation stone for India's first bullet train, connecting Mumbai and Ahmedabad.
Bullet train project: Indian Railways launches drive to hire top management
Here are 10 things to know about the bullet train:
The bullet train, which is a part of the Mumbai-Ahmedabad High Speed Rail project, will use the same technology used in Japan's Shinkansen trains. The train will become operational by 2023.
The 508km Mumbai-Ahmedabad High Speed Rail Project is estimated to cost Rs110,000 crore.
While Japan will lend a majority of the funding as a loan, the Gujarat government will bear 25 percent of the total cost of the project.
"The entire funding for this, or more or less 85% of this will come from the Japanese and that too on very soft terms. This is the best soft term under the Overseas Development Assistance (ODA) Japan has ever offered to anyone in the world," former Railways Minister Suresh Prabhu had told the Lok Sabha during Question Hour on Wednesday August 2.
The good news is that Japan will not only provide the technology but would also transfer it to boost the Make In India initiative.
This bullet train will run at a speed of 320 km per hour and will be able to cover the distance of 534 kms between the two cities in about two hours. This is six hours less than what the Ahmedabad-Mumbai trains take to cover the same distance now.
This bullet train will overtake the other superfast trains in India like the Rajdhani Express and the Shatabdi Express that run at a speed of 160 km/h and 150 km/h respectively.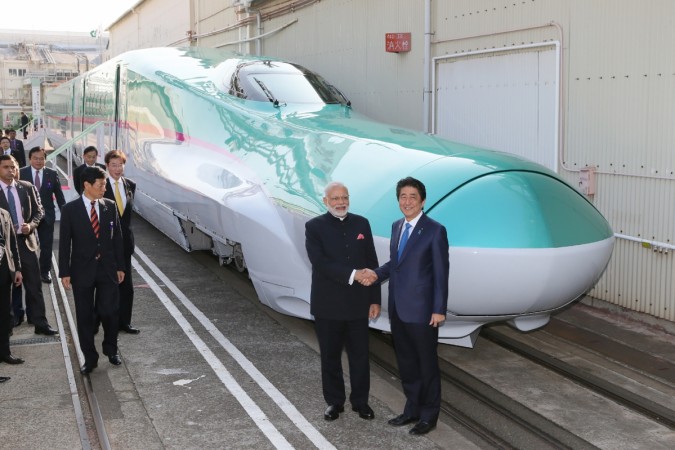 India's bullet train would be the cheapest of all the fastest trains in the world. Currently, the fastest train is the Japanese maglev L0 series that can speed up to 603 km/h, followed by the TR-09 in Germany and the Shanghai maglev in China.
The fully air-conditioned train will start from Bandra Kurla Complex in Mumbai.
According to a report by India Eagle, around 40,000 people are likely to ride the train when it is completed.
Though the train is expected to run on an elevated track, a stretch of it after Thane creek towards Virar may be built under the sea. The train may be extended to Pune and Nashik later.