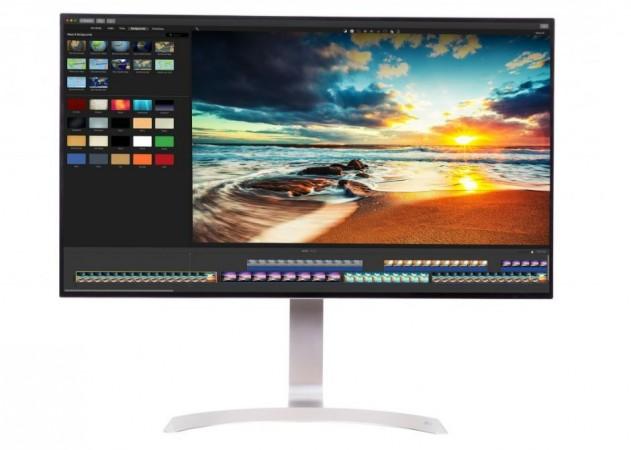 South Korean consumer electronics major LG, which has made huge strides in the display technology, is poised to take it to a notch up in the upcoming international CES (Consumer Electronics Show) 2017 at Las Vegas next month.
After launching flagship smartphone LG V20, the company has shifted focus on the PC screens. LG has comfirmed to unveil a 32-inch UHD 4K monitor (model 32UD99) with staggering 3840 x 2160p resolution. It boasts new HDR10 standard, which promises to deliver enhanced brightness levels and a wide color gamut image. HDR10 standard increases monitor's peak brightness, enabling users to edit movies and photographs much more comfortably.
Also read: LG G6 update: 2017 flagship smartphone tipped to boast advanced security feature
The 32UD99 also comes equipped with IPS panel and displays over 95 percent of the DCI-P3 color space, making it ideal for media content creators, who use True Color Pro to calibrate color reproduction for accuracy.
With such top-notch features, 32UD99 is well-equipped to meet the increasing demands of the HDR gaming, which has become the new norm in the home entertainment system requirements.
Another interesting aspect of LG 32UD299 is that the monitor comes with just one Type C –based cable to stream images to a 4K display, charge a connected laptop and execute data transfers simultaneously. Thus, reducing the messy cable clutter, we see in current crop of PC systems. And the monitor's built-in speakers are said to come with LG's 'Rich Bass' technology for a full-bodied audio experience.
Also read: LG G5 Review: A knight with not so shining armour
Other products that are slated to be showcased at CES 2017:
LG will also be showcasing the 34-inch 21:9 UltraWide Mobile+ Monitor (model 34UM79M), which is touted as the world's first Chromecast-enabled multimedia monitor. It will allow users to seamlessly stream movies, music, games and more from mobile devices directly to the monitor.
It also boasts Dual Controller Plus feature, which allows users to control both a PC and a smartphone/tablet via a single keyboard and mouse.
LG is also said to unveil dedicated display for PC gaming, as well. It plans to showcase a 34-inch 21:9 UltraWide gaming monitor (model 34UC99), which comes equipped with AMD FreeSync technology, 1ms Motion Blur Reduction, Dynamic Action Sync, Black Stabilizer and other value-added features to enhance the PC gaming experience.
LG will also be pulling the wraps off the new UltraFine series 5K and 4K displays. Key features are expected to be revealed during the launch.
Watch this space for more news on CES 2017.