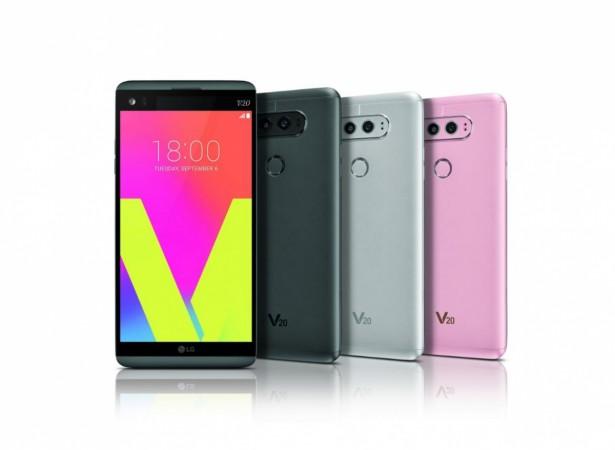 Launched on December 5 in India, flagship smartphone LG V20 is now available for purchase both on brick-and-mortar retail stores and online exclusively through Amazon India.
The new LG V20 costs a whopping Rs. 54,999 and as a promotional offer, the company is giving free SF coated back cover and premium B&O earphones worth Rs. 18,000 to prospective buyers. Furthermore, consumers who are ready to part with their old device for the new LG V20 on Amazon India, can claim up to Rs. 20,000 cash discount.
Also read: China slaps notice on Apple over iPhone 6s battery problem; asks to extend replacement program to other models
That being said, is such an expensive price-tag for LG V20 is justified? To provide a better perspective on the LG V20, we have listed the top five features that make the new smartphone an attractive buy.
Build quality-
The V20 is arguably one of the very few smartphones to boast top-notch build quality on the lines of Samsung Galaxy S7 active. The device comes covered with high-grade AL6013-series aluminium, which is said to be used in the making of airplanes, sailboats and mountain bikes. To further enhance its durability, the company has incorporated Silicone Polycarbonate (Si-PC) flaps on top and at the bottom.
SI-PC material is said to be used in the making of helmets and the ones used in V20 have passed MIL-STD 810G Transit Drop Test conducted by independent laboratory that conforms to US military standards.
Display-
Though LG V20 may have the same system configuration seen in rival brands, its display is something no competitor can boasts off. LG V20 houses two separate display panels – one, a primary screen with 5.7-inch QHD Quantum IPS screen and a secondary display 2.1-inch QHD Quantum screen on top, which is always active to show notifications like weather, messages, time, date and battery level.
Camera-
Another key aspect of LG V20 is its camera hardware. It boasts 16MP+8MP dual-cameras — one with a standard 78-degree lens and another with a 135-degree wide-angle lens -- the same as the LG G5.
The 135-degree lens offers a viewing angle approximately 1.7 times wider than those of existing smartphone cameras and 15 degrees wider than the human eye's field of view.
On the front, it houses an equally impressive 5MP front snapper with wide angle field of view, which guarantees nice quality group selfies.
Performance:
LG V20 comes packed with Qualcomm Snapdragon 820 quad-core processor backed 4GB RAM, 64GB inbuilt storage. With such system configuration, users are guaranteed of smooth experience during day-to-day use. If you are playing power-heavy graphics games, there will be less lag.
It has to be noted, LG V20 is the world's first non-Google device to come with Android 7.0 Nougat out-of-the-box.
It also boasts a 3,200 mAh battery, which is enough to keep the phone running for the whole day. It also boasts of Quick Charge 3.0 technology.
Top-notch audio quality-
LG in collaboration with B&O (Bang & Olufsen) Play has incorporated high-grade audio systems in the new phone. LG V20 is said to be the world's first smartphone to feature a 32-bit Hi-Fi Quad DAC, which promises to deliver clearer sound by minimising distortion and ambient noise by up to 50 percent. It also features Hi-Fi Video Recording , Steady Record 2.0, HD Audio Recorder, Studio Mode and high AOP Mic.