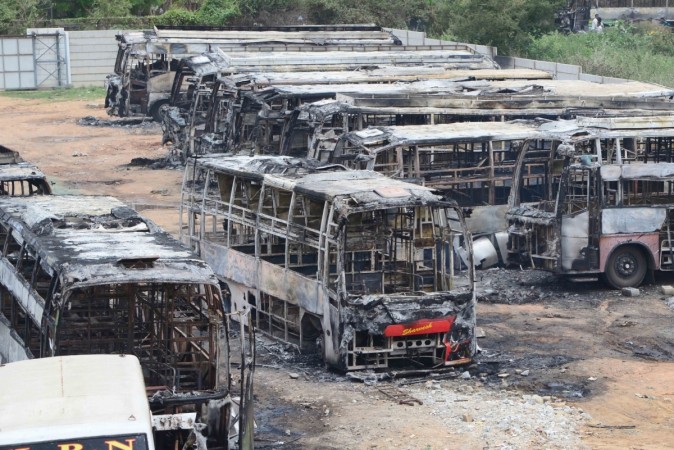 The second day of Section 144 of the CrPC passed off mostly peacefully in Bangalore -- now Bengaluru -- with isolated incidents of violence seen in the city on Tuesday, as compared to the widespread ones from Monday. However, 15,000 police personnel continued to patrol the streets of the city, keeping a strict vigil. The police said they had made nearly 350 arrests in connection with Monday's violence.
Also read: What is Section 144, and what does it imply?
Meanwhile, the death toll from Monday's police firing at an unruly mob in northern Bangalore increased as one more person succumbed to his injuries on Tuesday, bringing the total number of dead in the police action to two. Karnataka Chief Minister Siddaramaiah later announced a solatium of Rs. 10 lakh for those deceased as a result of the police firing.
He also urged people -- on two different occasions throughout the day -- to not indulge in violence. He was joined in his appeal to the masses by Prime Minister Narendra Modi himself, who said in an official statement released by the Prime Minister's Office: "This dispute can only be solved within the legal ambit. Breaking the law is not a viable alternative. The violence and arson seen in the last two days is only causing loss to the poor, and to our nation's property."
Buses plied almost uninterrupted throughout the day, and cabs and private vehicles also took to the streets by early afternoon. However, many big companies -- especially IT firms -- declared holiday for Tuesday. Even Eid al-Adha celebrations were muted.
On the other hand, many airlines, as a show of solidarity with stranded or inconvenienced flyers, decided to waive their cancellation and other fees.
Situation on Wednesday
The Bengaluru City Police said on Tuesday night that Section 144 of the CrPC continued to be in force across the city, with police stations in the following areas put under curfew: Rajgopal Nagar, Kamakshipalya, Vijaynagar, Byatarayanpura, Kengeri, Magadi Road, Rajajinagar, RR Nagara, KP Agrahara, Chandra Layout, Yeshwanthapura, Mahalakshmi Layout, Peenya, RMC Yard, Nandini Layout and Jnanabharathi Police Station.
Buses and cabs are expected to continue plying near-normally throughout Bangalore, barring any big untoward incident. Even offices are expected to remain open, as should be the case with many shops; quite a few of them were already partially or fully open on Tuesday.
Nevertheless, it would be a good idea to keep an eye on the official Twitter handle of the Bengaluru City Police and the local traffic cops. It would also be a good idea to be armed with the emergency numbers the police have put out. Schools and colleges are also opening, said the police.
For example, Kannadigas in Tamil Nadu can call the numbers 18004250100 or 155365 in cases of emergency. There is also the WhatsApp number 9480801000, through which the police are dispelling rumours that have been spreading on social media, thanks to anti-social elements.