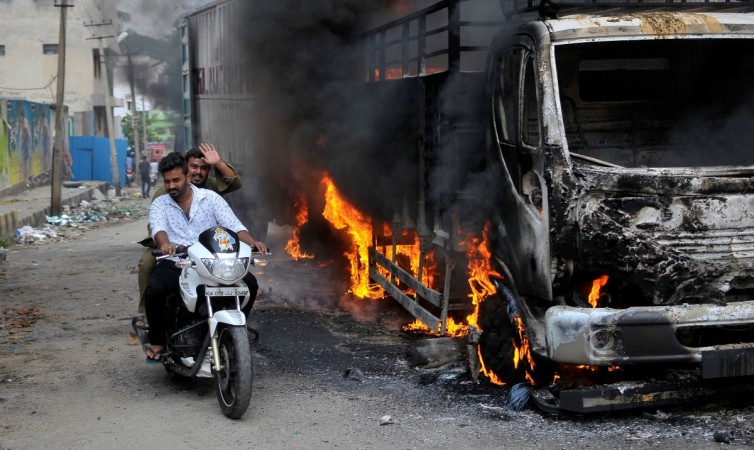 The protests over the Cauvery water issue, which erupted all over Bangalore on Monday, Sept. 12, continued on Tuesday, albeit on a muted note. While people stayed off the streets, public transport was hit, even as the police urged people not to heed rumours and instead follow the right communication channels for authentic updates.
Buses, taxicabs and private vehicles hit the road later in the day, as people tried to go about their usual business. Meanwhile, another person injured in the police firing on Monday succumbed to his injuries on Tuesday, bringing the death toll from the police action to two.
Here are the live updates of the protests for Tuesday:
7:15 p.m. IST: Many airlines are waiving their passengers cancellation and other chrges in view of the ongiong tention in Karnataka.
5:50 p.m. IST: KSRTC officials have arranged for food and water for bus passengers who are trapped in Mysore.
4:50 p.m. IST: The Union Ministry of Information and Broadcasting has issued an advisory to news outlets on how to cover the unrest in Karnataka and Tamil Nadu in a manner that does not incite violence.
4 p.m. IST: The home minister of Karnataka has said 350 people have so faar been arrested on charges of instigating and perpetrating violence in the state.
3:30 p.m. IST: A second person injured in firing on Monday night has succumbed to his injuries. The death toll in the protests has officially risen to two with this.

Meanwhile, Karnataka Chief Minister Siddaramaiah has announced a solatium of Rs. 10 lakh to all those who have lost their lives to police firing in these protests.
2:45 p.m. IST: There is now a special police line for Kannadigas in Tamil Nadu. They can now use this to reach out to the police in case of emergencies.
2:20 p.m. IST: Fresh violence has erupted in Karnataka, with a truck being burnt on National Highway 4 near Chitradurga.
2:10 p.m. IST: Metro services in Bangalore are yet to resume, confirms BMRCL.
1:10 p.m. IST: Here are more signs of the city returning to normal, with the police claiming vehicular traffic is flowing freely.
12:50 p.m. IST: Protests over the Cauvery water row have now spread to Tamul Nadu, with agitations seen in Hosur.
12:35 p.m. IST: The police say there has been no fresh incident of protests, as public transport takes to the roads and normalcy returns.
12:20 p.m. IST: Good news for Bangalore, as the police say buses and cabs are back on the road despite Section 144!
12:10 p.m. IST: Prime Minister Narendra Modi has urged for peace in Karnataka and Tamil Nadu. In a statement released by the Prime Minister's Office, Modi says: "I am personally pained at the developments. Violence cannot provide a solution to any problem. In a democracy, solutions are found through restraint and mutual dialogue."
11:50 a.m. IST: Banglore police have set up phone numbers which people can call for emergency assistance.

11:10 a.m. IST: The protests are spreading to all across Karnataka. In Mandya, the security forces are conducting a flag march to keep the situation under control.
11 p.m. IST: Union Minister for Urban Development Venkaiah Naidu says: "I fervently appeal to the people of both the states [Tamil NAdu and Karnataka] to immediately stop indulging in violence and ensure peace and normalcy."

10:30 a.m. IST: Flights are taking off as usual from the Kempegowda International Airport. And transport to and from the airport is also normal.
9:30 a.m. IST: The city police are urging people to send in photos and videos in order to identify the miscreants who caused unrest in Bangalore.
9 a.m. IST: The Bengaluru City Police are clearly not the only ones maintining law and order on the road.
8:45 a.m. IST: There will be no buses anywhere in Karnataka, say the police. The ground reality may differ, because a lot of people will still want to travel.
8:15 a.m. IST: The Bengaluru City Police have issued an emergency WhatsApp number from which to get updates or make complaints.
8 a.m. IST: As Bangalore looked forward to a muted Eid, heavy polcie presence in many parts of the city ensured peaceful Eid prayers throughout the day.
7:30 a.m. IST: The police are also urging people to stay indoors, as the city enters its second day of imposition of Section 144.

7:15 a.m. IST: KSRTC bus services at a lot of places have been suspended.
7 a.m. IST: The Bangalore police had declared curfew in 16 police station limits of Bangalore. These are: Rajgopal Nagar, Kamakshipalya, Vijaynagar, Byatarayanpura, Kengeri, Magadi Road, Rajajinagar, R R Nagara, KP Agrahara, Chandra Layout, Yeshwanthapura, Mahalakshmi Layout, Peenya, RMC Yard, Nandini Layout and Jnanabharathi Police Station.
Meanwhile, Chief Minister Siddaramaiah has urged for calm in the state in a video message released really early in the day.