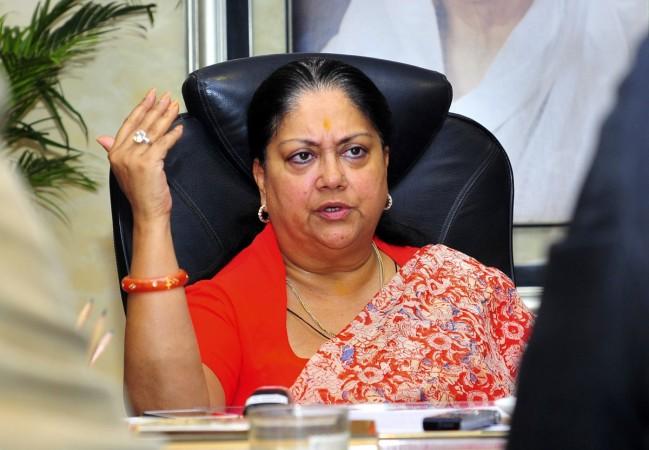 The Rajasthan High Court on Wednesday, September 5 banned Chief Minister Vasundhara Raje from inaugurating any government scheme during her ongoing Gaurav Yatra, which is a part of her election campaign for the upcoming assembly elections in the state.
Hearing to a PIL filed by advocate Vibhuti Bhushan Sharma claiming that the Chief Minister was using taxpayers' money for her political gains through the Yatra, Justice GR Mulchandani put a ban on the launch of any government scheme during the Gaurav Yatra that Raje is currently undertaking.
Raje had recently launched a scheme that promises to give smartphones to 1 crore households in the state. On Tuesday, September 4, the Rajasthan Chief Minister had announced financial assistance of Rs 1000 in two phases to the beneficiaries of Bhamashah Digital Parivar Yojana.
Under the scheme, smartphones worth Rs 500 and an internet pack worth Rs 500 will be given to each Bhamashah family availing ration under the National Food Security Act.
Earlier in August, the high court had asked the BJP government in the state to submit an affidavit citing details of the expenses incurred on the ongoing Rajasthan Gaurav Yatra under Raje's leadership.
The Rajasthan Gaurav Yatra, seen as an early election campaign, was flagged off by BJP President Amit Shah on August 4 in Rajsamand district. The yatra is aimed at seeking people's mandate in the upcoming assembly elections. The 58-day tour had invited criticism from Rajasthan Congress President Sachin Pilot who had said that the Chief Minister was wasting taxpayers' money to achieve her personal political goals.
The state will go for the assembly elections later this year to elect members from its 200 constituencies.