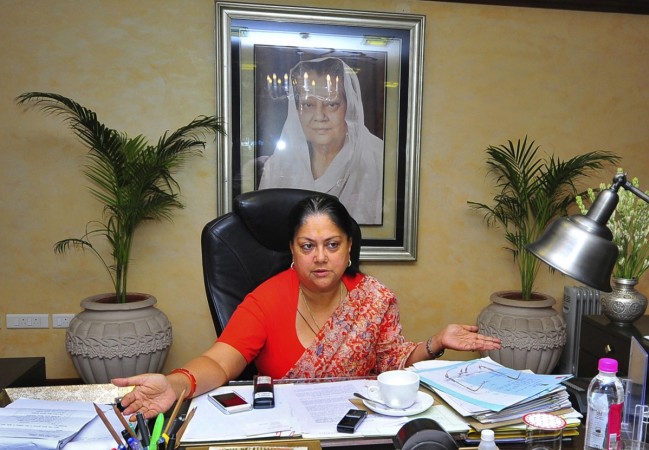 Hearing to a PIL filed by advocate Vibhuti Bhushan Sharma, the Rajasthan High Court has asked the Vasundhara Raje led BJP government in the state to submit an affidavit citing details of the expenses incurred on the ongoing Rajasthan Gaurav Yatra under the Chief Minister's leadership.
Sharma had submitted a PIL in the court which questioned the Rajasthan government's order on August 1 to the Public Works Department to float tenders for the Gaurav Yatra arrangements. The petition aimed at checking the government expenses during the yatra.
The high court has fixed August 21 as the next date of hearing and it has also asked party officials to come prepared with necessary documents.
The court of Chief Justice Pradeep Nandrajog had taken up the PIL on August 10 after which BJP President Madan Lal Saini was asked to submit his party's standby August 16. The hearing was delayed till Saturday after BJP's advocate had remained absent on the designated date of the hearing.
Advocate Ajit Kumar Sharma is representing the BJP while the state government is being represented by Rajendra Prasad.
The Rajasthan Gaurav Yatra was flagged off by BJP President Amit Shah on August 4 in Rajsamand district. The Yatra is Chief Minister's pre-poll tour and is aimed at seeking people's mandate in the upcoming assembly elections. The 58-day tour had invited criticism from Rajasthan Congress President Sachin Pilot who had said that the Chief Minister was wasting taxpayers' money to achieve her personal political goals.
The second phase of the Yatra will begin on August 24 from Jodhpur division and will continue for seven days. During the second phase of the Yatra, Raje will cover a distance of 1,285 km visiting over 33 assembly areas. 20 public gatherings will be held during the yatra's second phase.
(With inputs from IANS)