Shilpa Shinde had recently tweeted the source of a video which redirects you to a porn site to prove her innocence.
She urged her fans to watch the video which was being widely circulated on social media as Shilpa Shinde's leaked MMS
Bigg Boss 11 winner Shilpa Shinde, who became a victim of a fake MMS clip which was being widely shared on social media, has requested everyone on Twitter to raise their voice against such disgraceful acts which may destroy their life.
"My only request to everyone who become victim of disgraceful morphing, which is often done by few evil minded people. Raise ur voice against it that it's not u. Your family and near & dear ones should also support u. Remember, hum darte Hain isiliye log aur darate Hain (People threaten us because we fear)," Shilpa wrote on Twitter.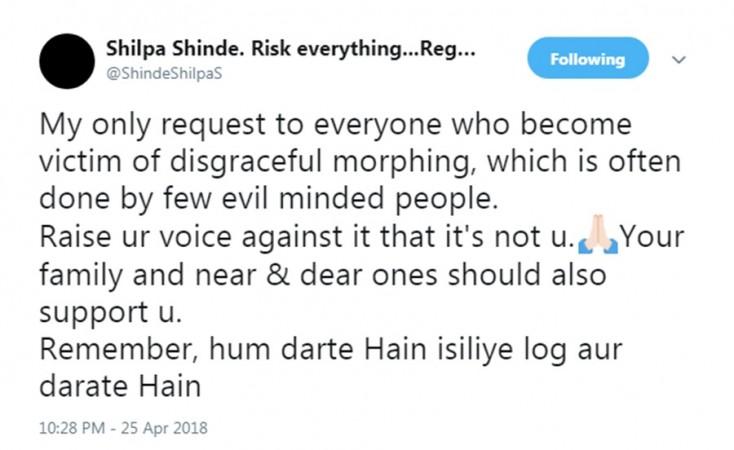 The former Angoori Bhabhi had recently shared a porn video link on Twitter to clear the confusion around her alleged leaked MMS video. During her stint in Bigg Boss 11, a picture had surfaced on the internet in which a girl having stark resemblance with Shilpa was seen in a compromising position with an unidentified man.
People had started speculating that the girl in the picture was probably Shilpa without makeup or her lookalike. Several videos with title "Shilpa Shinde MMS Video with Vikas Gupta" were being uploaded which received thousands of views on YouTube.
Shilpa Shinde's tweet containing adult content created quite a stir on social media. While her fans hailed her for taking a brave step to defend herself, her former Bigg Boss 11 colleague Hina Khan and her boyfriend Rocky Jaiswal slammed her for allegedly promoting porn on social media being a celebrity.
Ashutosh Shinde, brother of Shilpa Shinde, locked horns with Rocky Jaiswal and asked him if social media helped reach the fake MMS to millions of people, then why can't she use the same platform to bring out the truth.
Call it Shilpa Shinde effect, but after tweet, the porn video, which the Bigg Boss 11 winner had tweeted, has now been removed from the adult content site.