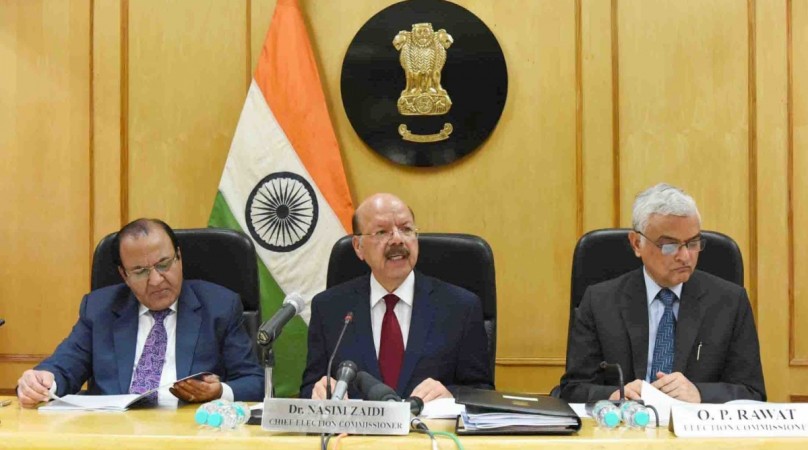 The Election Commission (EC) on Monday ordered the central government not to announce schemes that are specifically for the five poll-bound states — Goa, Punjab, Manipur, Uttarakhand and Uttar Pradesh — in the Union Budget for 2017-18. It also directed the Centre not to highlight its achievements in the five poll-bound states.
The EC order stated: "The Commission hereby directs that in the interest of free and fair elections and in order to maintain level playing field during elections, no State specific schemes shall be announced in the National Budget which may have the effect of influencing the electors of the five poll going States in favour of the ruling party(ies). It may be ensured that in the Budget Speech, the Government's achievements in respect of said five States will also not be highlighted in any manner."
The EC referred to a 2009 advisory to all the States and Union Territories regarding the introduction of the Budget of 2009-10, which stated that a vote-on-account must be taken in cases of poll-going states.
The 2009 advisory stated: "... the prevalent convention that is followed in most of the States is that instead of presenting full Budget, only a vote on account is taken for 3-4 months in cases where a General Election is imminent or when the process of General Election has been announced and the Model Code of Conduct is in operation."
The EC order came after a delegation of the Opposition parties met Chief Election Commissioner Nasim Zaidi on January 5 complaining about the clash in the dates of the polls and the Union Budget while demanding that the presentation of the Budget for 2017-18 be postponed.
The EC asked the Centre to respond to the demand. The BJP government, in its response, defended its decision of advancing the Budget Session and the presentation of the Budget on February 1 saying that it was a constitutional exercise carried out every year with respect to all the states. The Centre also said that advancing the presentation of the Budget would ensure that budgetary allocations were available to the concerned authorities for faster implementation of projects.
The Supreme Court also on Monday ruled in favour of the government saying that the date of presentation of the Budget would not be postponed since it has got "nothing to do with states." It added that assembly polls keep taking place throughout the year and, therefore, cannot be a reason to delay the work of the Centre.
The order came in response to a petition filed by advocate Manohar Lal Sharma seeking postponement of the Budget to after the results of the assembly elections so that schemes announced in the Budget do not influence the voters.
The Budget will be presented in Parliament on February 1. The elections in the five states — Punjab, Goa, Uttarakhand, Uttar Pradesh and Manipur — will commence on February 4, while the results for all states will be announced on March 11.