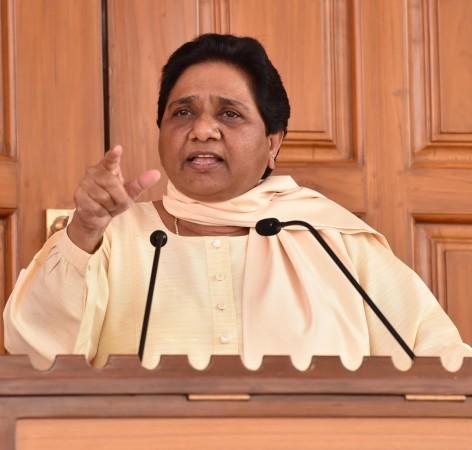 The year 2014 may have been a disappointment for the Bahujan Samaj Party (BSP), with the Mayawati-lead party failing to win a single seat in the Lok Sabha, but that hasn't stopped the party from being optimistic about its campaign for 2019 elections.
On Monday, BSP national co-ordinators Vir Singh and Jai Prakash Singh launched the party's strategy for the upcoming general elections in 2019. The party has not only projected Mayawati as its Prime Ministerial candidate, but also slammed Congress chief Rahul Gandhi, saying he can not aspire for the post due to "his mother's foreign origin".
At the worker's conference in Lucknow, the duo said that it was "high time that Mayawati became the prime minister of the country", adding that she was the only one who could take on incumbent PM Narendra Modi.
"After playing a pivotal role in making HD Kumaraswamy the chief minister of Karnataka, Mayawati has emerged as a powerful politician. She is the only 'dabang' (fearless) leader who can stop the winning chariot of Narendra Modi and Amit Shah in the electoral battle." Jai Prakash Singh
The party is attempting to portray the BSP supremo as the first Dalit Prime Minister of the country, riding on the successful election of President Ram Nath Kovind. Mayawati has been the face of Dalit representation in Indian politics since she became the first women Dalit CM in 1995, following which the former prime minister PV Narasimha Rao dubbed her as the 'miracle of Indian democracy'.
Talking about Rahul Gandhi, who is widely believed to be the face of the Congress' campaign, Singh said: "Rahul looks more like his mother than his father. And his mother is a foreigner, thus he can never be PM". The Congress refused to react to the comment.
Singh went on to add that the BSP chief had more credentials than Gandhi, saying she is a "grassroots" leader and had served as CM of Uttar Pradesh four times.
BSP state unit president R.S. Kushwaha went on to talk about how the leaders of the opposition parties rallied behind Mayawati at the oath-taking ceremony of HD Kumaraswamy, saying "This clearly indicates that she is playing a pivotal role in the anti-Modi alliance."
Rajya Sabha member and head of the BJP's media department Anil Baluni, who said: "Anyone can dream of becoming PM even if they do not have a single seat in Lok Sabha. A leader with 44 seats like Rahul Gandhi is dreaming of becoming the PM and a leader like Mayawati with no seat is also dreaming of becoming the PM."