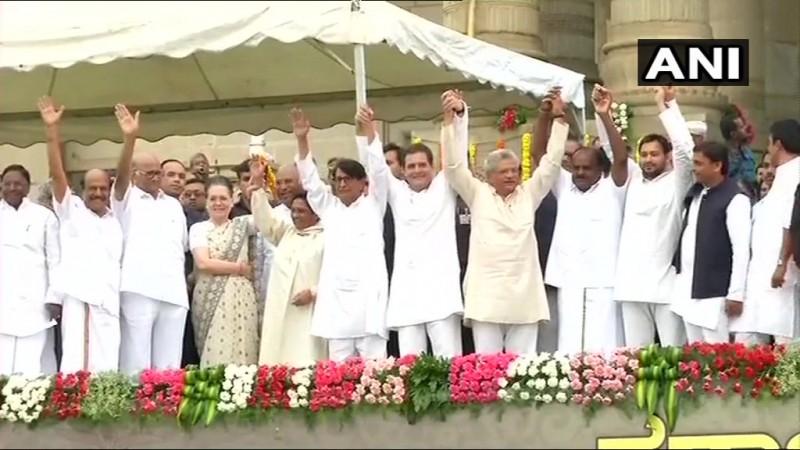 Funny memes on opposition parties' bonhomie at the Karnataka Chief Minister HD Kumaraswamy's swearing-in ceremony in Bangalore created a lot of buzz on Twitter on Wednesday.
HD Kumaraswamy united all the opposition party leaders to send out a loud and clear message to ruling BJP about 2019's Lokha Sabha elections. Mamata Banerjee, Sitaram Yechury, Sharad Pawar, Sharad Yadav, Mayawati, Akhilesh Yadav, Sonia Gandhi, Rahul Gandhi, Arvind Kejriwal and Chandrababu Naidu made it to this occasion and wished the new CM.
The photos and videos featuring the bonhomie of the all these opposition created a lot of buzz in the media. A lot was written and spoken about how this unity can defeat the super-brand Narendra Modi in upcoming general elections.
On the other hand, several political experts and critics took a dig at the unity of opposition parties, saying that they are a bunch of corrupt and anti-Hindu leaders. Some people even created funny memes about the grand ceremony. Here are some comments and funny memes shared on Twitter."
Jignesh Mevani, politician from Gujarat, tweeted, "While #KumaraswamySwearingIn ceremony may have witnessed a historic "Opposition Unity", I sincerely request that these same people take time off from Photo-Op to come visit #Thoothukudi & join hands to protest #Vedanta & the horrific corporate, state-sponsored murder of civilians".
Journalist Abhijit Majumder tweeted, "Parties who have come distant second and third in a southern state election are forming govt, and the entire galaxy of Opposition celebrating as if they have survived apocalypse. This is what Modi has reduced Oppn to. One outfit with one agenda: Stop Modi. #KumaraswamySwearingIn."
Jayashanker (@jmangshetty) tweeted, "Look at the strength of modi. Still opposition looks nervous and in dought that whether it is enough for modi. Modi looks huge."
Just heard this historical speech of @SushmaSwaraj . Nothing is changed in Indian politics then and how. Your words are golden ma'am. How relevant even in today's scenario. ? #Karnataka #KumaraswamySwearingIn pic.twitter.com/TZ3cpqvp8Q

— Anish Rai?? (@anistrong11) May 23, 2018
Close enough?? pic.twitter.com/VCwvTXTrgC

— The Joker (@cooljalz1808) May 23, 2018
Lead characters for Hera Pheri 3.. pic.twitter.com/9GjeOLlcT1

— Paresh Rawal fn (@Babu_Bhaiyaa) May 23, 2018
May 24, 2018
May 24, 2018
Sirji pic.twitter.com/OxtL4nDHq5

— Sharath (@shawin23) May 23, 2018
Ali Baba 40 Chor , In One Pic #KumaraswamySwearingIn pic.twitter.com/hrwMvMStmL

— Narendra Sharma (@imNSharmaBJP) May 23, 2018
देख तमाशा देख ... pic.twitter.com/odGyGlVLyG

— Paresh Rawal (@SirPareshRawal) May 24, 2018
All May Feel they have achieved something big! But someone at corner watching all!
Respect to this man!!
#KumaraswamySwearingIn pic.twitter.com/AJGMZtPRjp

— Vasudev Purohit (@purohitvasu) May 23, 2018
May 24, 2018
meme on a lighter note #KumaraswamySwearingIn pic.twitter.com/OZyqqYsZnY

— Teekhi Baat (@The_Urban_India) May 23, 2018
Cause the Winner always in 'One' and Losers always many !! ?#KumaraswamySwearingIn #ModiFor2019 pic.twitter.com/n0elEPGjph

— Anita Kapoor (@NotAnyKapoor) May 23, 2018
Too Close ???#KumaraswamySwearingIn #HDKNotMyCM pic.twitter.com/src5Zh7PU4

— Troll Hub (@tejasarcasm) May 23, 2018
Who wants to be Prime Minister in 2019- Raise your hand !! #KumaraswamySwearingIn pic.twitter.com/66WJMJA8VC

— Rosy (@rose_k01) May 23, 2018
No one invited me at #KumaraswamySwearingIn? How intolerant people have become in Modi's India. Modi must resign. pic.twitter.com/Z8648f5oGn

— Arvind Kejriwal (@TroluKejri) May 23, 2018
May 24, 2018
Modi Vs All pic.twitter.com/L5fSq1XYPb

— AKASH MAHESHWARI (@vetakash) May 24, 2018
So True?????#ModiFor2019 pic.twitter.com/a2CyfCFena

— ?S I M P L Y ?S A C H ? (@MODIfiedSach) May 24, 2018