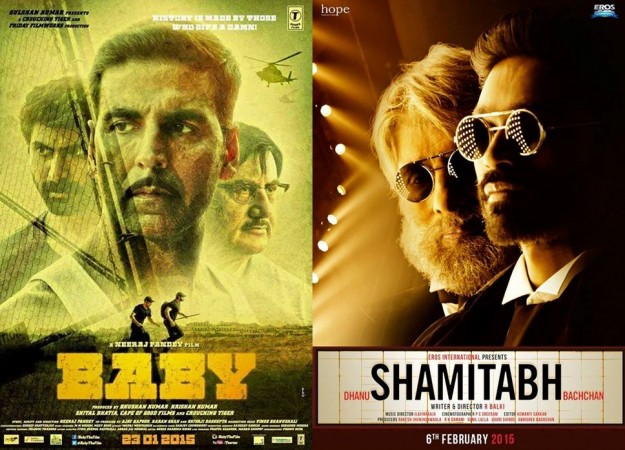 Akshay Kumar's "Baby" had a phenomenal three weeks run at the box office, but the film will not cross the ₹100 crore mark at the domestic market.
The box office collection of Neeraj Pandey's directorial film "Baby" is pegged at ₹92 crore after its third week. The film enjoyed its three weeks run at the box office despite the new releases.
But in its fourth week "Roy" proved to be a strong competitor. The collection of "Baby" declined after the release of "Roy". The earnings, which were in crores in the first three weeks, have fallen to lakh in fourth week.
Due to this, the film's box office income has almost come to a halt in India, making it impossible for the film to cross the ₹100 crore mark at the domestic market.
However, "Baby" is the highest grosser of 2015 and also the worldwide revenue has crossed the ₹100 crore. "Baby" is the first film of 2015 to hit the century at the worldwide box office.
On the other hand, Amitabh Bachchan starrer "Shamitabh" has failed to even earn the production cost from its domestic and overseas run.
The collection of "Shamitabh", also starring Dhanush, rests at approximately ₹27 crore (₹20 crore domestic and ₹7.26 crore overseas), while the production cost is reportedly said to be ₹40 crore.
The filmmakers will have to earn the remaining budget money by selling the satellite and music rights.
Meanwhile, trade analysts have pointed out the reason behind "Shamitabh" faring less amount at the box office even though it received rave reviews.
"The drawbacks were right from a long-winding script to the execution and editing. Instead of cashing in on the idea, the film tries to cash in on Amitabh Bachchan's image. There was no curiosity for the film hence it had a weak opening day. It did have a slight improvement on Saturday and Sunday," trade analyst Vinod Mirani told Financial Express.
"Shamitabh hasn't performed as expected. I guess this is a very niche film and so it is not appealing to the masse," exhibitor and distributor Akshaye Rathi told the paper.