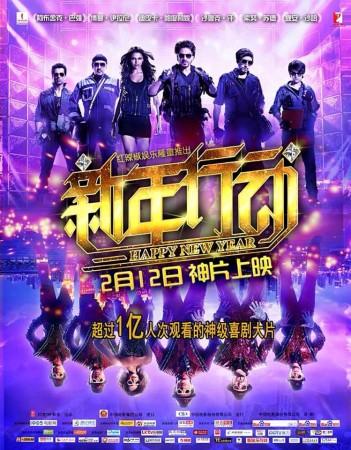 Shah Rukh Khan starrer "Happy New Year" (HNY) has opened to a positive response at the Chinese box office.
The film was released in China on 12 February, a week before the Lunar New Year or Chinese New Year. The film completed its first weekend run at the Chinese box office with good occupancy.
The musical heist drama "Happy New Year", which has earned 202 crore in India, was released in 5000 screens in China. And like India, in China also the film has opened to houseful status at several theaters.
The box office figure is not yet updated; however, it looks the film will beat the opening weekend figure of "Dhoom 3".
"Dhoom 3" pushed past the record of Chinese romantic film "No Zuo No Die" as it earned $ 1.35 million [₹ 8.14 cr] in its opening weekend.
Meanwhile, Farah Khan's directorial film will also be screened at the prestigious Beijing Film Festival apart from releasing in theaters.
"This is the first Indian movie to come to China this year and in our meeting with Mr. Shah Rukh Khan and YRF chairman Mr. Aditya Chopra we discussed about many more collaborations in future. Hope this is just the start of a long journey," Ms. Xiao Ping, president of China Film Group (Import Export Division), said in a statement.
The dubbed version of the film "HNY" was released in 5000 screens to reach the widest possible audience, according to Yash Raj Films, which took over the distribution rights of the film.
"We at YRF pride ourselves on taking the best of Indian cinema to new shores," said Avtar Panesar, vice president (International Operations) YRF.
The musical heist drama features SRK, Deepika Padukone, Abhishek Bachchan, Boman Irani, Sonu Sood and Vivaan Shah in lead roles.
Check out the photos of screening below: