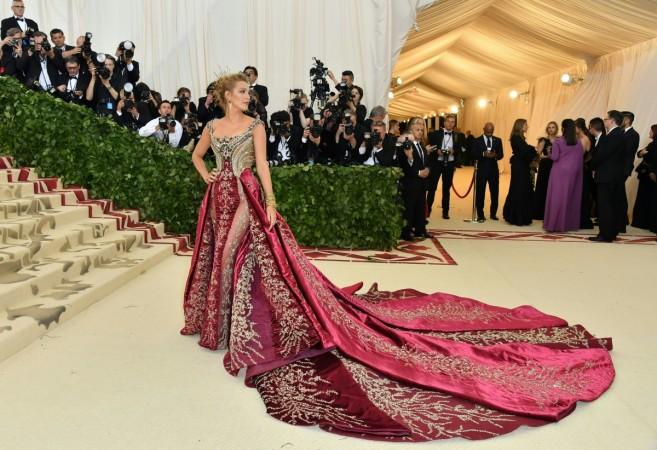 This year Met Gala red carpet was filled with countless divine looks and "heavenly bodies." And, actress Blake Lively's regal red gown was no exception.
The Gossip Girl star donned a gorgeous Versace gown to walk down the red carpet. And, the most eye-catching part of her breath-taking ensemble was the massive train.
According to a report by Vogue, the train of Lively's dress was so long that she needed a party bus to arrive at the fashion event Monday night.
Describing the event, Vogue wrote, "Spliced with sheer panels on both sides and covered in so many beads that it took 600 hours to embroider the bodice alone, there was no chance that Lively's entrance would go unnoticed."
Apart from the gown, Lively's entire ensemble had a couple of hidden messages. While this year the actress was not accompanied by husband Ryan Reynolds, Lively (kinda!) carried her entire family with her.
Wondering how?
The actress was carrying a Judith Leiber custom-made rhinestone-embellished clutch, one side of which has the Reynolds family crest. The crest was shaped like a cross and each point was bejeweled with the first initials of each member in the Reynolds family — B (Blake), R (Ryan), J (James), and I (Ines). The center of the scroll reads Reynolds.
On the other side of the clutch, a classic "sacred heart" iconography behind a veiled woman was exhibited to keep up the tone of this year's Met Gala theme, "Heavenly Bodies: Fashion and the Catholic Imagination".
Coming back to her outfit, Lively's crimson Versace gown was heavily embellished with golden embroidery along with bejeweled straps. The hand-made outfit took more than 600 hours to be created. She completed her look with a halo-esque headpiece, Christian Louboutin shoes, green colored earrings, and gold bracelets.
Ahead of the Met Gala, the actress took to Instagram to share a photo from her last year's golden Versace gown at the event.
She captioned: "Eternally trying to nail JLo red carpet eyes. This is more like deer who's a big fan of JLo, but currently is caught in headlights, while still trying to stay dedicated to giving those damn eyes. That's what I was going for..."