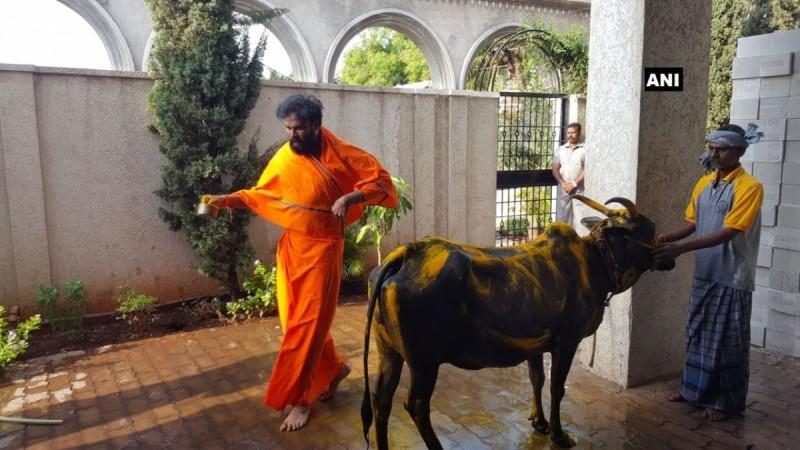 Bharatiya Janata Party (BJP) leader B Sriramulu, who is contesting assembly elections from two constituencies, was seen performing 'gau puja' (cow worship) before he left for casting his vote in Bellary.
Elections are the time when many politicians to visit temples. Some leaders were seen heading to offer prayers on Saturday morning before they cast vote and Sriramulu is one among them.
A cow is sacred according to Hinduism and people worship it before they set out on an important mission. As is the tradition, the BJP leader was spotted worshipping a cow with kumkum and arshin (turmeric powder) on Saturday morning. Later, he left for voting in Bellary.
Click following video to watch Sriramulu performing 'gau puja'
B Sriramulu was one of seven children of railway employee B Thimmappa and was mentored by jailed former minister Gali Janardhan Reddy. He was a local aide of Sushma Swaraj when she contested Lok Sabha elections from Bellary in 1999. Later, he went on to become a minister and also started political party Badava Shramika Raitha Congress or BSR Congress after quitting the BJP in 2011.
After the big failure in 2013, the BJP brought Sriramulu back in the party and made him one of its prominent leaders. Initially, he filed his nomination in Molakalmuru, Chitradurga district. But later, the party fielded him against incumbent Chief Minister Siddaramaiah to pose him a tough competition in Badami.
Since he locks horns with Siddaramaiah, Badami has become one of the high profile contests of Karnataka assembly election 2018. This constituency has 2,14,834 voters and both Congress and BJP are confident of winning the election here. It should be seen who would have a last laugh here.