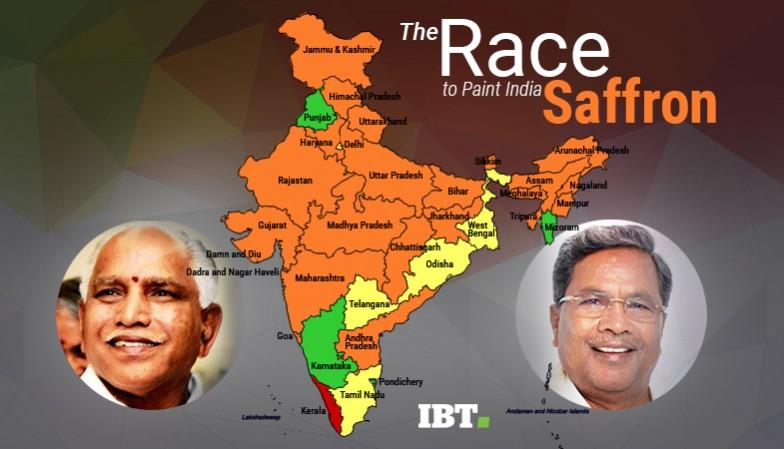 LIVE updates:
Less voter turnout than Karnataka Assembly elections 2013.
Re-pooling will be conducted in 2 booth across the state due to faulty EVMs
CM Siddaramaiah calls BJP president Amit Shah a comedy show and termed Narendra Modi's speeches completely hollow
The CM also called BS Yeddyurappa mentally disturbed.
The BJP has said that it has set a target of 150 seats.
72 percent voter turn out in Dakshina Kannada.
The polling for the Karnataka Elections has ended.
Re-polling to take place in Hebbal constituency's polling booth 2 as the casting of votes had to be stopped due to EVM failure.
While voter turnout has been low in a few places due to heat and heavy rains, a few polling booths in Tippu Nagar of Badami district witnessed less turnout of voters as most of the people are not in the district. Locals said that the people live outside the district as there are no employment opportunities there, reported ANI.
64.5 percent voter turnout recorded till 5 pm, reports Times Now.
Voting has been affected in Hubli due to heavy rains.

Reports have said that high temperatures in Kalaburgi have affected the voter turnout.
52.40 percent voter turnout recorded till 3 pm, said the Election Commission.

CM Siddaramaiah calls BJP president Amit Shah a comedy show.
"This Amit Shah is like a comedy show and Narendra Modi's image has drastically declined, his speeches are completely hollow and have made no impact on the voters of Karnataka. Therefore we are not worried," the CM said, reported ANI.
Congress leader Dinesh Gundu Rao have been alleged of treating voters to biriyani in Bengaluru's Anand Rao Circle.
Former Foreign Minister and BJP leader SM Krishna casts his vote in a polling booth in Bengaluru.
Dakshina Kannada has recorded highest voting percentage as of 2 pm, followed by Yalahanka: 34.34 percent.
More than 5,000 villagers in Kalaburagi have boycotted the polls, reported News 9.
Siddaramaiah casts his vote from Chamundeshwari in Mysuru.
"My son Dr. Yatindra Siddaramaiah and I have cast our vote in Varuna today. Karnataka voters as always will display political maturity and will begin a change that our country needs the most. Please go out & vote for an inclusive and peaceful Karnataka," the CM tweeted.
33.42 percent voter turnout has been recorded till 1 pm, said the official website of Chief Electoral Officer of Karnataka.

Siddaramaiah has alleged that JDS is distributing money in Chamundeshwari to buy votes.
"JDS has distributed a lot of money, their candidate says he is a social secretary, so from where did he get so much money? Also, BJP is openly supporting JDS, they have put up a dummy candidate here," ANI quoted Karnataka CM as saying.
Errors have been reported in the voter's list in Chamundeshwari in Mysuru, said News 18. The Karnataka CM is contesting from Chamundeshwari and Badami.
Karnataka Minister DK Shivakumar casts his vote at polling booth number 240 in Kanakapura.
Former Karnataka Lokayukta Justice Santosh Hegde has also cast his vote.
"Over the years, I feel that malpractices have increased. Distribution of sarees. alcohol, dhotis, and cookers have come out in open. It is not a good sign in democracy," Hegde said, reported ANI.
Clashes were reported between BJP and Congress workers in Hampi Nagar in Bengaluru after the former thrashed a BJP corporator. The corporator has been rushed to the hospital.
"It is a sensitive polling booth and the clash between BJP and Congress workers happened within 100 meters of the booth. We will investigate and take further action," ANI quoted Ravi Channannavar, Bengaluru DCP as saying
Taking a jibe at Yeddyurappa's visit to a temple in the morning, CM Siddaramaiah said that he "doesn't go on temple run", reported News 18. He also added that he is sure that Congress will return to power.
Congress has said termed Modi's Nepal temple visit as a way to influence voters in Karnataka.
"As there is a model code of conduct in Karnataka, PM Modi planned to pray at temples in Nepal instead, just to influence voters. This is not a good trend for democracy. Why did he only choose today as the day?" ANI quoted Congress general secretary Ashok Gehlot as saying.
BJP's B Sriramalu casts his vote in Bellary.
Karnataka Congress spokesperson Brijesh Kalappa had earlier said that there were issues with the EVM and votes were getting registered only for BJP. However, he now says that the issue has been resolved.
After tweeting: "There are 5 booths opposite my Parent's apartment at RMV II Stage, Bengaluru. In the 2nd booth, any button pressed registers a vote ONLY to kiwi mele Kamala i.e Kamal ke phool. Angry voters are returning without casting their vote," he added: "Issue has been resolved. Polling has resumed at Polling Booth No. 2 opposite Sterling Residency RMV II Stage."
Dalits have refused to vote in the Maddur taluk of Mandya district.
They said that the taluk needs attention but is often ignored
"Our pleas for improvement of the colony have been neglected by the elected representatives and officials concerned," the Dalits alleged, according to FirstPost
School students and children are said to be canvassing for Janata Dal (Secular) candidate M Srinivas
"Voting is the duty of every citizen. There is more awareness than before. What plans the government has in place should be taken into account before people vote," Mate Mahadevi, Lingayat seer, who arrived at a polling booth to exercise his rights told CNN-News18.
HD Kumaraswamy and wife Anitha cast their votes in Ramanagara. "We are confident that JDS will cross the magic number on its own," Kumaraswamy said.
About Rs 11,00,950 has reportedly been seized. However, HD Kumaraswamy has said that these were Congress workers
BSP workers have been detained for distributing money on election day.
Voter turnout till 11 am recorded at 24 percent
While the election has generally been peaceful until now, a clash between a few BJP and Congress workers has been reported from Vijayanagara
Burqa-clad women were asked to reveal their faces at a Belagavi polling booth, which disrupted the polling process.
A few Electronic Voting Machines (EVMs) were reported to be malfunctioning in some booths while a polling station in Rajajinagar constituency faced power cut, reported Hindustan Times.
Sri Sri Ravishankar cast his vote at a polling booth in Kanakapura.

10.45 percent polling recorded till 9.30 am in Karnataka, reported DD News.
A differently abled person cast his vote at a polling booth in Badami, the second constituency from where CM Siddaramaiah is contending from.
A LGBT activist from Bengaluru and transgender, Dr. Akkai Padmashali, has also cast her vote. She voted for the first time in 33 years.

A day after BJP said that it has set 150 seats as its target, Mallikarjun Kharge of Congress said Saturday that the saffron party will not meet the target. "Karnataka. We are confident. BJP will not win more than 60 to70 seats maximum, forget getting 150. They are just dreaming of forming the Government," ANI quoted Kharge as saying.
Moorusavir Math's Gurusidda Rajayogindra Mahaswami has also cast his vote.
Mysuru's erstwhile royal Krishnadatta Chamaraja Wadiyar has also cast his vote.

10.6 percent voter turnout has been recorded till 9 am in the ongoing Karnataka Assembly Elections, reports ANI.
BJP has fielded 223 candidates, while 222 people are contesting on a Congress ticket. Deve Gowda's party Janata Dal (Secular) has fielded 201 candidates.
Deve Gowda said that he is expecting that his party will form the government in Karnataka. He was 11th Prime Minister of India from 1 June 1996 to 21 April 1997 and the 14th Chief Minister of Karnataka from 1994 to 1996.
Former prime minister and JD(S) supremo HD Deve Gowda cast his vote at polling booth no. 244 in Holenarasipura town in Hassan district.
One BJP worker has been arrested for threatening voters, reported Business Standard.
Voters in Karnataka can check their names in an online list at www.ceokarnataka.kar.nic.in.
Congress leader KJ George, who is contesting from Sarvagnanagar has arrived to cast his vote.
BJP MP Rajeev Chandrasekhar casts his vote at Karnataka Reddyjana Sangha in Bengaluru's Koramangala.
BJP parliamentarian B Sriramulu performed 'gau pooja' (cow worship) at his residence before casting his vote. He is contesting from Badami along with CM Siddaramaiah.
Voting has been interrupted in Hubli due to a faulty Voter Verifiable Paper Audit Trail (VVPAT) machine.

Both Congress and BJP have campaigned hard to ensure their victory in the polls. They have taken jibes at each other and challenged each other in relation to different issues in the state like the welfare of the farmers, corruption etc.
Here are a few visuals from Badami constituency, where CM Siddaramaiah is contesting from. BJP parliamentarian B Sriramulu, a key aide of the Reddy brothers has been fielded by the saffron party from Karnataka's Badami.

Voting is taking place throughout Karnataka, except in south Bengaluru's Jayanagar constituency, due to the death of BJP candidate BN Vijayakumar May 4.

Residents of Puttur in Dakshina Kannada district have started to assemble to cast their votes.
Union Minister Sadananda Gowda casts his vote in Puttur.
BS Yeddyurappa, BJP's Chief Ministerial candidate has cast his vote in cast his vote in Shikarpur.
BJP leader Sadananda Gowda is also confident that people in Karnataka will also vote for the saffron party.

Voting for the last southern fortress -- Karnataka has begun.
On Saturday morning, BS Yeddyurappa, BJP's Chief Ministerial candidate in the Karnataka polls has urged the people to vote for the saffron party. He also performed a puja at his residence.
Polling booths have been preparing for the elections since early morning.
Security has been beefed up across Karnataka to ensure a smooth polling across all the constituencies.
Around 4.96-crore people, including 2.44 crore women, will be casting their votes today.
A total of 2,654 candidates are contending for the 222 seats in the Karnataka Legislative Assembly, which are spread across 30 districts.
The casting of votes will begin at 7 am and will end at 6 pm on Saturday.
In 2013, the ruling party of Karnataka (Congress) had won more than half of the seats.
| | | |
| --- | --- | --- |
| Party | Seats won | Votes |
| Congress | 124 | 37% |
| BJP | 40 | 20% |
| Janata Dal (Secular) | 40 | 20% |
| Karnataka Janata Paksha (KJP) | 6 | 9.8% |
| Badagara Shramika Raitala Congress (BSRCP) | 4 | 2.7% |
| Independents (IND) | 9 | 7.4% |
| Samajwadi Party (SP) | 1 | 0.3% |
| Karnataka Makkala Paksha (KMP) | 1 | 0.2% |
| Sarvodaya Karnataka Paksha (SKP) | 1 | 0.4% |
The battle between the Titans and the regional powers for the last southern fortress —Karnataka —will begin at 7 am Saturday, May 12.
Punjab, Meghalaya and Mizoram and Karnataka are few states where the Congress is still in power. If BJP, which currently rules 22 states in India, wins the Karnataka Assembly elections as well, then this will play a vital role in its victory in the general elections due in 2019.
After coming to power in 2014, BJP has snatched away Maharashtra, Rajasthan, Haryana, Uttarakhand, Assam and Manipur from the Indian National Congress (INC) including the largest state of India, Uttar Pradesh.
The left front government's 25-year rule in Tripura came to an end in March after BJP won 36 seats.
The term of the 224-member assembly in Karnataka will end on May 28, 2018.