It's official! The Bharatiya Janata Party (BJP) has ended the Left Front's rule in the state after 25 long years.
Manik Sarkar, who was the chief minister of the state for four consecutive terms, will make way for the saffron party to claim the power in the state. And his likely successor is Biplab Deb, chief of BJP in the state.
The BJP's success may be attributed to its ability to make inroads into the tribal community (constitutes 31 percent of the state's population) and capturing their vote banks through promises like free smartphones for young people, accessible drinking water, increase of tribal's representation in the government and job for every household.
Apart from electoral promises, the national party allied with the Indigenous People's Front of Tripura (IPFT) that focuses on the interest of the tribal community.
Also read: Meghalaya election 2018: Congress fails to retain power in the state
Nagaland election 2018: Will BJP stick to its new ally NDPP or go back to its old friend NPF?
---------------------------------------------------------------------------------
LIVE update
04:45 pm: BJP has ended the Left Front's 25 years rule in the state in style. The party's alliance with regional party Indigenous People's Front of Tripura (IPFT) seems to have won the trust of the tribal community of the state.
04:04 pm: "The victory of @BJP4Tripura is not an ordinary electoral victory. This journey from 'Shunya' to 'Shikhar' has been made possible due to a solid development agenda and the strength of our organisation. I bow to every BJP Karyakarta for working assiduously on the ground for years," said PM Narendra Modi.
"The historic victory in Tripura is as much an ideological one. It is a win for democracy over brute force and intimidation. Today peace and non-violence has prevailed over fear. We will provide Tripura the good government that the state deserves," he added.
03:35 pm: Assam CM Sarbananda Sonowal has thanked the people of northeast for keeping faith on BJP
Many congratulations Shri @AmitShah ji & @BJP4India Karyakartas for the splendid performance in assembly polls held in Tripura, Nagaland & Meghalaya. We also thank the people of #NorthEast for keeping faith in our party & supporting us in our endeavour of a #CongressMuktBharat

— Sarbananda Sonowal (@sarbanandsonwal) March 3, 2018
03:10 pm: BJP didn't declare its chief ministerial candidate ahead of the election but it is understandable that the state's party's chief Biplab Deb will succeed Manik Sarkar as chief minister.
1:55 pm: Congress won 10 seats with 35.6 percent vote share in 2013 assembly election but it may draw a blank this time. The party is currently not leading of the constituencies, which will send an alarming bell to its office in Delhi.
Result status at 1:45 pm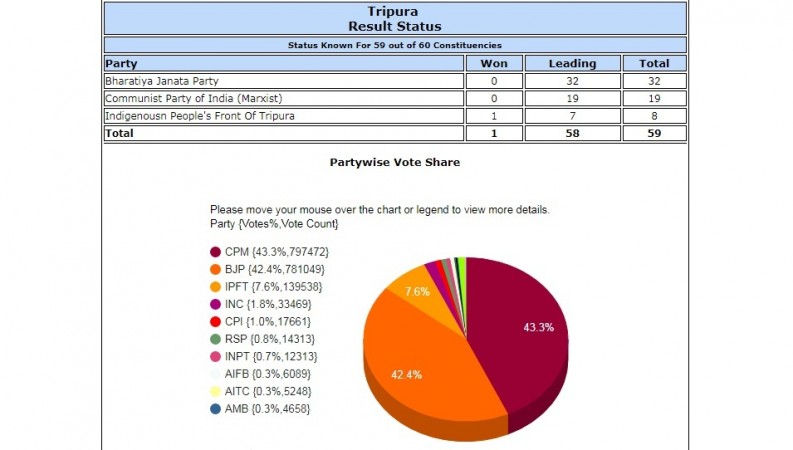 12:50 pm: BJP's presence in the 2013 Assembly elections was negligible with Left Front having won 50 seats (48.1 percent vote share) but the story is different this time around. It is likely to form the government in the state, ending CPM's 25 years rule.
12:15 pm: Incumbent CM Manik Sarkar may be leading in his contituency but BJP is leading in 42 consituencies against CPM's 17. The final result is awaited but the trend will be a cause of worry for the party that has ruled the state for two decades.
11:30 am: Manik Sarkar leading with 4,489 votes from Dhanpur constituency. His closest rival is Pratima Bhoumik of BJP with 2,807 votes. Counting of vote still in progress.
10:47 am: Current chief minister Manik Sarkar leading by 1,682 votes

10:44 am: BJP hopes to win in Tripura
10:38 am: Counting in all 59 constituencies underway. BJP is leading in 36 and CPM in 23. Election in one constituency has been countermanded following the death of a candidate.
10:25 am: Brinda Karat of CPM told ANI that the party is confident of winning in Tripura
10:14 am: Exit polls have predicted win for BJP-IPFT alliance but CPM is leading at the moment
09:40 am: Counting underway 56/59. CPM leading in 29, BJP - 27
09:16am: Counting underway in 51/59 constituencies. CPM leading in 25, BJP - 23, Congress 3
09:10 am: One of the vote counting centers captured by ANI
08:59 am: Vote counting in 47 out of 59 constituencies underway. CPM currently leading in 23, BJP - 22, Congress - 2
08:47 am: Counting in 41 constituencies out of 59 currently on -- BJP leading in 20 constituencies, CPM in 19, Congress in 2
Seeing the earlier trends:, I feel that in Tripura BJP is going to do very well In Nagaland too, our alliance is doing very well and Congress is trailing in Meghalaya. The three results of North East are going to be very good for BJP: Ram Madhav, BJP pic.twitter.com/66V7BPCXDn

— ANI (@ANI) March 3, 2018
08:30 am: Counting of votes has begun. CPM is currently leading in 8 constituencies and BJP-IPFT alliance in 4
08:13 am: Ramendra Narayan Debbarma, sitting MLA and CPM candidate for Charilam constituency, died a week ahead of the Assembly elections, so the election in this assembly segment was countermanded as per electoral laws.
--------------------------------------------------------------------------------------------------------------------------------------------------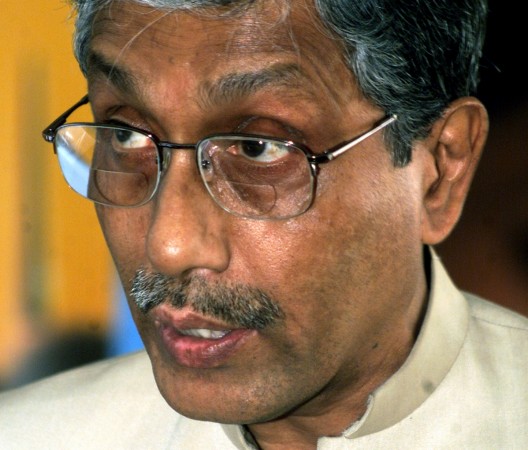 Tripura State Legislative Assembly election 2018 result will be declared a few hours from now after the counting of votes, which is scheduled to begin at 8 am, concludes in the afternoon.
We will provide you live update of the results when vote counting begins. Stay tuned to this page.
Tripura registered a voter turnout of 92 percent when it went to polls on February 18. A total of 297 candidates entered the fray for 59 seats in the 60 member state assembly. The polling in the Charilam constituency in western Tripura was postponed following the death of the CPM MLA and candidate on February 11, days ahead of the elections.
The incumbent chief minister Manik Sarkar, who has been in the top seat for the last two decades, hopes that the Left Front led by the Communist Party of India (Marxist) will retain power in the red bastion.
The Left Front has contested from all 59 seats when the polling held in February.
Congress fielded 56 candidates in the just concluded elections, and there are several parties like All India Trinamool Congress (AITC), Amra Bangalee, and Indigenous Nationalist Party of Twipra (INPT) in the fray but it appears like BJP will be the biggest threat to Left Front.
According to the exit poll by AxisMyIndia, the BJP-IPFT alliance will win 44-50 seats with 49 percent vote share, while the Left Front is projected to win only 9-15 seats with 40 percent vote share. JanKiBaat-NewsX also predicted in its exit poll that the BJP-IPFT alliance would win 35-45 seats, while 14-23 seats will go to the Left Front.
However, an exit poll by CVoter has predicted and neck-and-neck fight with the Left Front winning 26-34 seats and the BJP-IPFT alliance bagging 24-32 seats.