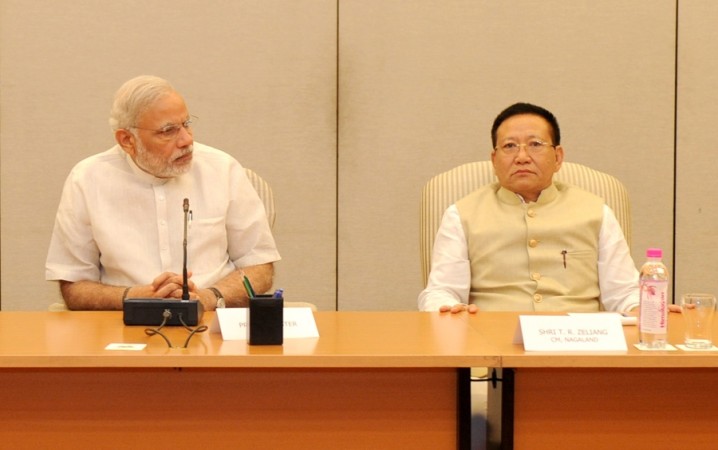 Bharatiya Janata Party (BJP) was an unknown entity in Nagaland but was in the government for a decade through its ally Naga People's Front (NPF). Today, the lotus bloomed in the state, proving its 20-40 seat-sharing agreement with the newly formed regional party Nationalist Democratic Progressive Party (NDPP) a success formula. But the national party's alliance fell short of crossing the magic figure of 31 to form the government in the northeastern state.
Meghalaya election 2018: Congress fails to retain power in the state
The BJP has the option to form government with NPF, and together, the numbers will cross the half-way mark but they had parted ways weeks ahead of the election after the latter refused to strike a seat-sharing deal. But anything can happen as there are no permanent foes or friends in politics.
Interestingly, chief minister TR Zeliang has said that his party's (NPF) alliance with BJP continues and hopes to form the next government. That's not all. Union minister and BJP leader Kiren Rijiju reportedly told India Today news channel that leader of NDPP Neiphiu Rio is its chief ministerial candidate, but the party's leadership will decide its next course of action if the alliance fails to win a majority.
This has sparked off speculations that the BJP might be willing to ditch NDPP and form the government with NPF.
Tripura election 2018: BJP set to form a government in CPM bastion after claiming majority

---------------------------------------------------------------------------------------------------------------------------------
This is how the counting progressed on Saturday:
04:25 pm: "Thank you Nagaland for supporting @BJP4Nagaland and our valued ally. I assure my sisters and brothers of Nagaland that we will continue to work for the progress and prosperity of Nagaland. I applaud the tireless work of the local BJP unit," tweeted PM Narendra Modi.
04:00 pm: "People of Meghalaya, Nagaland and Tripura have spoken! I thank the people of these states for supporting the good governance agenda and 'Act East Policy' of @BJP4India & our valued allies. We remain committed to working towards fulfilling the dreams & aspirations of the people," said PM Narendra Modi.
03:55 pm: Former Nagaland chief secretary and working president of NDPP, Alemtemshi Jamir, contested in two seats and lost both. He lost to Tongpang Ozukum (Independent) by 950 votes in Angetyongpang constituency and to Ngangshi K Ao in Mongoya by 348 votes.
03:25 pm: Incumbent CM TR Zeliang of NPF wins from from Peren constituency after beating his opponent Iherie Ndang of NDPP
Nagaland assembly election 2018 result status at 1:38 pm
1:15 pm: BJP has almost zero presence in Nagaland prior to 2018 state assembly elections though it was in the government through its alliance with NPF. However, its alliance with NDPP has worked wonders this time. The alliance is currently leading in 34 constituencies and is likely to come to power with Neiphiu Rio as the chief minister.
12:36 am: NPF may give way to BJP-NDPP as the latter is leading in 33 constituencies
11:35 am: Current CM TR Zeliang of NPF leading with 10,797 votes from Peren constituency. His opponent Iherie Ndang of NDPP is trailing with 6,835 votes
11: 03: V. Kashiho Sangtam of BJP wins from 59 Seyochung Sitimi (Kiphire)
11:00 am: Chief Electoral Officer, Nagaland has said that Neikesalie Kire of NDPP has won from 9 Kohima town constituency
10:08 am: Exit polls predicted win for NDPP-BJP alliance but NPF is leading at the moment
09:43 am: Vote counting underway in 54/60. NPF leading in 28, BJP-NDPP - 24, Others - 2
09:23 am: Out of 41 constituencies where counting of votes is underway, BJP-NDPP lead in 20, NPF - 19, Congress - 1, Others - 1
Seeing the earlier trends:, I feel that in Tripura BJP is going to do very well In Nagaland too, our alliance is doing very well and Congress is trailing in Meghalaya. The three results of North East are going to be very good for BJP: Ram Madhav, BJP pic.twitter.com/66V7BPCXDn

— ANI (@ANI) March 3, 2018
09:02 am: Vote counting in 16 out of 59 constituencies underway. BJP-NDPP currently leading in 12, NPF - 3, Congress 1
08:42 am: BJP-NDPP currently leading in 11 constituencies, and NPF in 3
08:17 am: Former Nagaland chief minister and Lok Sabha MP Neiphiu Rio has won with NDPP ticket from 11 Northern Angami II A/C after his lone opponent Chupfuo Angami (NPF) withdrew his nomination.
--------------------------------------------------------------------------------------------------------------------
The result of Nagaland State Legislative Assembly election 2018 will be out a few hours from now as counting of votes will begin at 8 am on Saturday, March 3.
We will provide you live update of the election results when the counting of votes starts. So, stay tuned to this page.
Nagaland went to polls on February 27 with a total of 195 candidates (excluding Neiphiu Rio) in the fray for 59 seats of the 60-seat Assembly. Former state chief minister and Lok Sabha member Neiphiu Rio of the Nationalist Democratic Progressive Party (NDPP) won uncontested from the 11 Northern Angami II Assembly constituency after his rival withdrew his nomination.
The NDPP has struck a pre-poll alliance with the Bharatiya Janata Party (BJP) with Neiphiu Rio as its chief ministerial candidate. The NDPP contested in 40 constituencies (one won) and BJP in 20.
Exit polls have predicted that the NDPP-BJP alliance has an edge with the possibility of crossing the magic figure of 31 but the Naga People's Front (NPF), led by incumbent chief minister TR Zeliang can upset the alliance and is expected to give a close fight.
The NPF has contested in 58 constituencies, while INC fielded 18 candidates, JD (U) – 13, Ind – 11, NCP – 6, AAP – 3 and LJP – 2.
NPF may give way to BJP-NDPP after ruling for 15 years