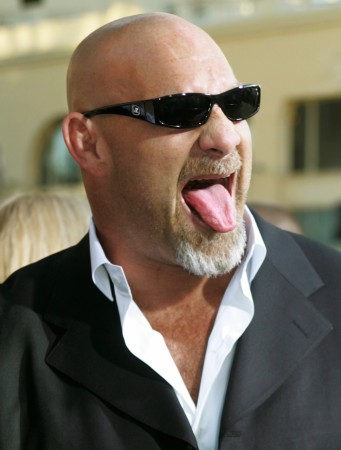 The world of sports entertainment is now abuzz with the return of former WWE champion Bill Goldberg, who also is the owner of 173 consecutive victories in the WCW. Goldberg returned last week to Monday Night RAW after being away for 12 years. As the legend prepares for showdown against Brock Lesnar, let us take a look at five such superstars who have been away from WWE and whose return could now happen earlier than expected on the lines of Goldberg.
Kurt Angle: One of the highly-rumoured names, Kurt Angle is a former six-time WWE and TNA champion. Kurt Angle was expected to return at this year's Wrestlemania, but new rumours hint that the Olympic gold medallist has been talking to WWE management regarding a return which could now happen at Wrestlemania 33. The 48-year-old's return could see him take-up part-time roles considering his age and previous battles with drug addiction.
Shawn Michaels: The Heart Break Kid wrestled his last WWE match six years ago at Wrestlemania 26 against The Undertaker. This match saw Michaels retiring from active in-ring competition. Now, if latest buzz is anything to go by then Mr Wrestlemania could face-off against the Phenomenal AJ Styles at the Royal Rumble 2017 that co-incidentally takes place at Michaels' home town of San Antonio, Texas.
Jeff Hardy: Currently involved in TNA Wrestling as a part of the "Broken" stable headed by his brother Matt hardy, Jeff Hardy has openly expressed his intent to return to WWE and possibly end his career while wrestling for the promotion. There are speculations that WWE would bring back Jeff in time for Wrestlemania 33.
Sting: The Icon recently stated that he wishes a match with The Undertaker. Sting is also said to have postponed a neck surgery (injured during Night of Champions last year) and said to be getting in shape for one last WWE match. What is notable is the fact that the Icon has already announced his retirement from WWE, but rumour mills are rife about him returning for one last match.
Hulk Hogan: The Hulkster could get back to WWE in time for Wrestlemania 33. There are reports about WWE COO Triple H having expressed consent for Hogan to get back to the company. The last time we saw Hulk Hogan aka Terry Bolea was during Wrestlemania 31.