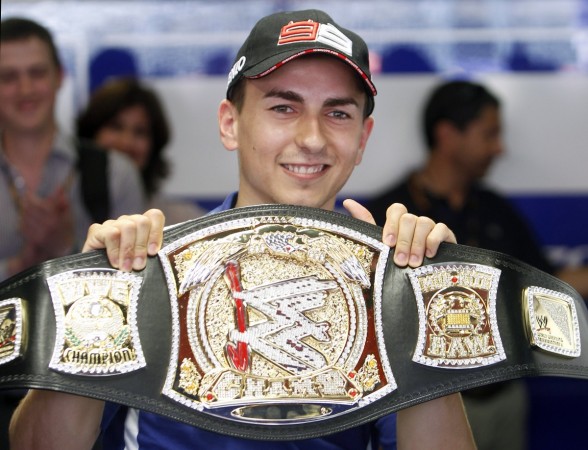 In a new rumoured development that could result in yet another dream match for WWE fans, Heartbreak Kid Shawn Michaels could be returning to the WWE ring as a wrestler to take on the "Phenomenal" AJ Styles in a one-off match. This match is said to take place at the Royal Rumble 2017 in Michaels' home town of San Antonio, Texas in the US.
Rumours are rife about folks at WWE lobbying for Shawn Michaels with regard to facing AJ Styles at next year's Rumble. These developments mean that the Heart Break Kid (HBK) would be required to come out of retirement to take on the Phenomenal One at the event. The last match that Michaels wrestled was against The Undertaker in a losing effort that saw him retire from wrestling.
There are also reports about WWE officials having made the above offer to Shawn, and it seems that HBK is yet to take a call on the matter. These reports obtain substance considering the fact that Royal Rumble 2017 will be take place at San Antonio which happens to be Michaels' hometown.
Therefore, having HBK take an active part makes complete sense and WWE is unlikely to miss out on the opportunity. Also, it has been reported that current WWE champion AJ Styles is in favour of wrestling Shawn Michaels. Style's wish to wrestle the icon was made public in an interview (of AJ Styles) conducted by ESPN earlier this year.
However, it remains to be seen if the potential Shawn Michaels vs AJ Styles bout would involve Styles' WWE Championship. It is also unknown if Styles would remain champion till the Royal Rumble next year.
Nonetheless, this potential match-up seems to be bigger than even the Bill Goldberg vs Brock Lesnar bout that is highly expected to take place at Survivor Series in November. Other superstars who are likely to make an appearance at next year's Royal Rumble include The Undertaker, Triple H, Stone Cold Steven Austin, The Rock, Bill Goldberg and Brock Lesnar.
[Source].