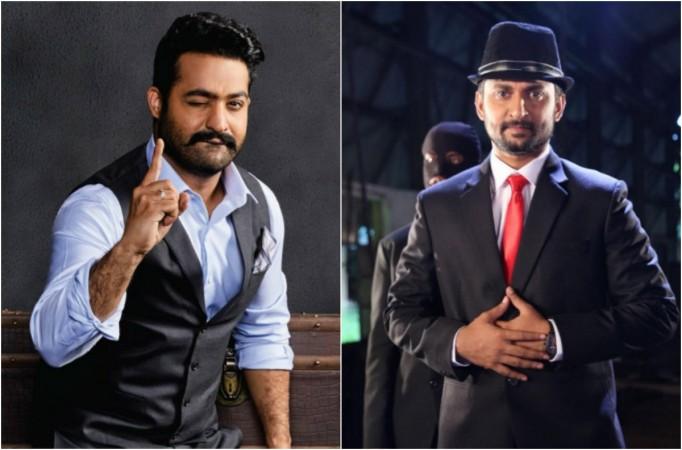 Star Maa finally launched its much-awaited show Bigg Boss Telugu 2 on Sunday. But audience feel that natural star Nani failed to create a vibe and he cannot fill the gap of Jr NTR as a host.
Junior NTR made his debut on the small screen with the first season of Bigg Boss Telugu. He had tried his best to showcase his witty side, but had failed to live upto the expectations of the viewers. But as he continued to host the show, the young tiger proved his mettle and mesmerized everyone.
But Jr NTR could not make it to the second season of Bigg Boss Telugu due to his prior commitments, and the fans of the reality TV show were left wondering if anyone would be able to fill the gap created by his exit. Star Maa found a suitable replacement for Jr NTR in Nani and the new promos generated a lot of curiosity and expectation from the show.
Nani, who is referred as natural star, is known for his spontaneity in acting and many viewers felt that he is best replacement for Jr NTR. As a host, Nani tried his best to showcase his funny side and tried his best to bring laugh on the faces of contestants as well as audience. When compared to Jr NTR, he was not nervous at all.
But what went wrong with Nani was that rather than being natural, he was more focused about following the formalities. Secondly, he seemed to be in a hurry to end the show as early as possible. He did not talk much to the contestants, before sending them inside the house. The magic of Jr NTR was missing in his actions.
Minutes after Bigg Boss Telugu 2 began, some viewers started took to Twitter to share their disappointment. Some said that Nani lacked Jr NTR's grace and star power, while a few of the opinion that he would do well, as he goes on hosting more episodes. Here are some of their comments taken from Twitter.
Shiva Tarak‏ @ShivaTarak9999
️‍️#BiggBossTelugu ️‍️ is nothing without NTR. Spntaneity, cmedy,aggressin,friendly❤️etc etc ...!! What an amazing h️‍️st. #BigBossTelugu2
Mahendra Babu Gaddam? @tdpmahendra
Grace is missing, it might be due to first season @tarak9999 #BiggBossTelugu2
Akhil Reddy? @akhillreddy
@RaghuStarMaa #BiggBossTelugu2 ..Nani's anchoring is like Telugu remake of Toofan. Jr NTR nailed it in the previous version... We want our @tarak9999 back in #BiggBoss3
Sr1kanthH? @NaGaSriKaNthH
Difference between#Bigboss1 and #Bigboss2 is as simple as #Kick1 and #Kick2 and the deemed celebrities
swathi chowdary? @Iamswathi3
Anyone missing @tarak9999 as #BiggBossTelugu host?? I'm missing him badly @StarMaa #BigBoss2Telugu
Chanu @Chanu64230249
#BiggBossTelugu2 am nly one who misses @tarak9999 smile n energy levels....!! I think @NameisNani mohamatam ga chestunadu be free nani ji
Mahesh A @Ursbadmahi_325
Salman Khan > Jr NTR > Nani @BeingSalmanKhan > @tarak9999 > @NameisNani . Nani has to improve alot with his hosting skills. He can do better than this. #BiggBossTelugu2 @StarMaa @EndemolShineIND @RajeshwariGowd
Pavankumar dhruv? @MyselfPa1
Nani is doing fine.. He needs to ease up but yea he will be better in coming episodes.. STAR POWER is definitely missing, you should've picked Star hero! Anyway contestants and the house looks great @StarMaa #BiggBossTelugu2