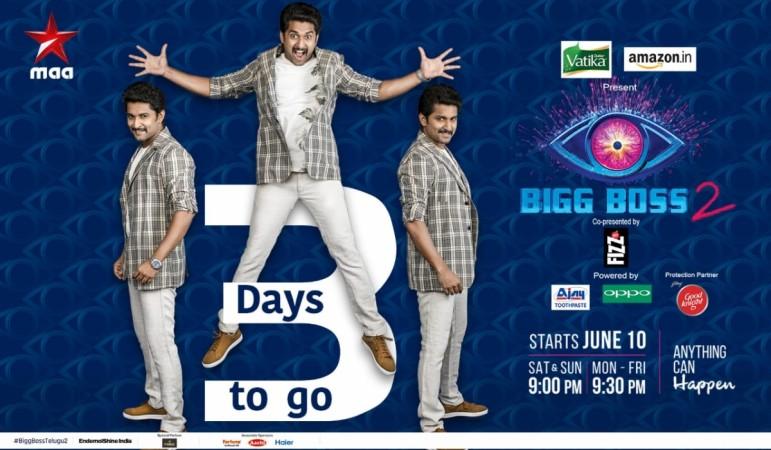 11.26 pm: Bigg Boss asks all the housemates to nominate two people. After the nominiation process, Nuthan Naidu and Sanjana are locked in jail.
11.26 pm: Nani locks the house. Bigg Boss addresses the housemates and explains the terms and conditions of house. He wishes them good luck and warns them of punishments of voilating the rules.
11.17 pm: Nuthan Naidu is the 16th and last housemate.
11.14 pm: Sanjana Anne, who is miss India finalist, enters the house as the 15th housemate. She is confident of winning the show. She enters the house.
11.00 pm: Nani says the some common peole will enter the house. RJ Ganesh enters the house as 14th housemate.
10.55 pm: Samrat Reddy enters the house as the 13th housemate. With a brief chat, Nani sends him inside the house and he bonds big time with Amit and calls it reunion.
10.50 pm: Actress Tejaswi Madiwada enters the house as the participant no 12. Without wasting the time, he sends her into the house. Excited actresss enters the house and wishes everyone.
10.40 pm: Kousal is the participant no 11 on Nani's show
10.40 pm: Deepthi Sunaina, who is sensation on instagram, enters as the 10th housemate with her dance to the tunes of Rangamma Mangamma from Rangasthalam.
10.26 pm: Kireeti Dharmarju enters the house as the ninth contestant. Nani introuced him, saying that he is known for playing the roles of Pelli koduku in movies. Later, his AV is shown and it is funny.
10.26 pm: Every housemate is excited to receive Shyamla.
10.23 pm: Anchor Shyamla enters Bigg Boss Telugu as the eighth housemate. Talking to Nani said that she was not ready to enter the house, as she didn't want to miss her son. But her husband encouraged her to go to the show, saying that it is a big show.
10.18 pm: Geetha receives Roll Rida him warmly and then he introduces himself to other housemates.
10.16 pm: Roll Rida makes a rocking entry on the stage as the seventh participant in the house. Mumaith Khan, who was the contestant on the first season is shaking legs with him. Talking to Nani, he explain why he has named himself as Roll Rida and why he has come with Mumaith.
10.07 pm: Bhanu Sree is received well by the housemates and Amit Tiwari seems to be taking the lead in the process.
10.04 pm: Bhanu Sree is the sixth housemate, who enters the stage with her dance for the tune of the song Jigelu Rani from Rangasthalam. Nani introduces her saying that she played a body double for Tamannaah's role in Baahubali.
10.00 pm: Babu Gogineni enters the house and housemates receives him warmly. Geetha says she likes his idealogy, while Amit says he does not about him.
9.55 pm: Human rights activist Babu Gogineni is the fourth housemate. He says, "I am pleased to be on the show. I am excite to see or hear Bigg Boss in the house". Later, he is seen introducing himself as an atheist in AV.
9.45 pm: Tanish is welcomed by housemates Amit and Deepthi, while Madhuri is missing on the scene.
9.45 pm: Actor Tanish is the fourth housemate and he enters the house with his dance to the tunes of song I don't know from Mahesh Babu's Bharat Ane Nenu.
9.45 pm: Nani wishes her all the best and sends her inside the house. She is receied warmly by Amit and Geetha. All three are confused about their beds, as there is division for girls and boys.
9.42 pm: Anchor Deepti is the third participant to enter Nani's show Bigg Boss Telugu 2. AV about her is played and she is seen talking about her background.
9.32 pm: Amit Tiwari wishes Geetha and says that her husband Nadu is a good friend of his. Nani takes a break, before welcoming third participant.
9.30 pm: Amit Tiwari is is the participant No 2 on Nani's show Bigg Boss Telugu 2. Nani introduces him as he has set a record with eve teasing in the movie. Hugging his son for the last time, Amit enters the house.
9.25 pm: Talking to Nani, she says she is excited to enter the house. Without spending much time Nani sends her inside the house. She roams around and gushes, superb! very nice." Then she tells her husband and mother that this house is really good.
9.22 pm: Singer Geetha Madhuri is the first participant to enter the Bigg Boss Telugu 2 and she enters the stage with her hit numbers.
9.20 pm: Nani takes look at each room of the Bigg Boss house. He is called in to confession room and Bigg Boss wishes good luck to him. He is asked to leave the room, when he tries to play prank. Theyn he runs in search of bothroom. Finally, he is leaving the house and entering the stage.
9.10 pm: Fans cheers don't stop despite his request for it. He goes to talk about the success of preious season of Bigg Boss Telugu and praises Jr NTR. Then he goes inside the house to see the set up.
9.05 pm: Host Nani makes a grand entry with dance performance of fusion song of title tracks of his hit movies Middle Class Abbayi and Nenu Local.
The second season of Bigg Boss Telugu will go on air on Star Maa at 9.00 pm today. Natural star Nani, who is making his debut in small screen industry as a host, will welcome 16 contestants on the show.
Bigg Boss Telugu, which was hosted by actor Jr NTR, has become a massive success and topped the Star Maa's TRP charts. The elated bosses of the TV channel announced its second season soon after the grand finale of the first edition and they had also confirmed that Jr NTR would host the next season too.
But Jr NTR backed out of Bigg Boss Telugu earlier this year. The actor has two big-ticket projects with directors Trivikram Srinivas and SS Rajamouli. He gave bulk dates for both the movies and he will be busy shooting for them throughout this year. Hence, he could not adjust dates for this reality TV show.
So Star Maa selected actor Nani as the host of Bigg Boss Telugu 2 after carefully considering the names of various actors. The bosses of the TV channel have adopted several unique strategies to promote the second season of this show and they have left no stone unturned to make this season bigger success than previous one.
Bigg Boss Telugu 2 has been promoted with a tagline 'Yedaina Jaragachu' (whatever may happen). This season would be different from the first edition, which began with 14 contestants and ran for 70 days. The second season of this reality TV show would start with 16 participants locked inside the house and it will have its grand finale on its 100th day.
StarMaa tweeted, "#BiggBossTelugu2 STARTING TODAY at 9 PM with @NameisNani on @StarMaa #BiggBossTelugu2 STARTING TODAY .. Give a missed call to 7729998825 and get a reminder call from @NameisNani"
Star Maa has kept the names of 16 participants of Bigg Boss Telugu 2 under wraps, but a possible contestants list has been creating a lot of buzz in the social media for the last couple of weeks. But none of the celebs mentioned in this list, has confirmed his/her presence in the house except Deepthi Sunaina and Babu Gogineni.
Charmme Kaur, Amit Tiwari, Tanish, Geetha Maduri, Babu Gogineni, Roll Ride, Tejaswi Madivada Syamala, Rashi, Lasya, Gajala, Chandni Chaudhary, Junior Sridevi, Dhanya Balakrishna, Raj Tarun, Varun Sandesh, Aryan Rajesh, Venu and Viva Harsh are other names featured in the rumoured contestants list of Bigg Boss Telugu 2.
The fans of Bigg Boss Telugu are curiously waiting to know the names of the participants of the second season. An fan named Aditya (@RGVaditya) tweeted, "Finally the day has come, which i waiting from the very day of completing season 1 Big Boss. Excited about opening and contestants tonight. #BigBosstelugu2 #BiggBossTelugu"
Actor-turned-TV host Nani will be seen revealing the names of contestants on Bigg Boss Telugu 2 tonight. We bring you live updates on the participants, who will enter the house tonight. Stay locked to this page.