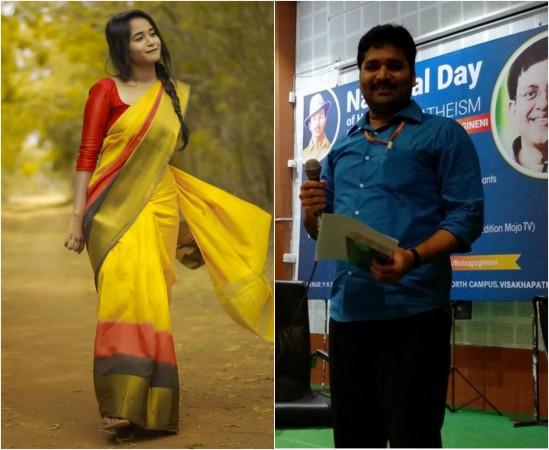 Human rights activist Babu Gogineni and starlet Deepthi Sunaina have confirmed that they would be contestants on the second season of the Telugu version of Bigg Boss. Hosted by natural star Nani, the show will go on air tonight.
Star Maa, which has been promoting Bigg Boss Telugu 2, has given enough hint on how its second season will be different from its first edition. But the TV channel has kept the details of its 16 contestants, who are set to enter the house of Nani-hosted show tonight. Despite rife speculations about the participants, no names were confirmed officially.
The rumour mongers had released a list of 16 possible contestants and the names of Babu Gogineni and Deepthi Sunaina were also mentioned in this rumoured list. Hours before they enter the house, the two took to Facebook and without mentioning the name of the show, they gave a clear hint that they will be among the inmates of the house.
Babu Gogineni posted, "Dear Friends and Followers, Due to a professional engagement, this account will be inactive for a few months, but you can still stay in touch with Humanism and Rationalism by liking and following these two pages: Babu Gogineni Hetuvadi and Babu Gogineni Community You can also join the Facebook Group: Babu Gogineni Humanists and Rationalists Discussion Arena at link. This last one is a closed group and intended for Humanists, Rationalists and Atheists. Thank you and good wishes, Babu Gogineni"
On the other hand, Deepthi Sunaina posted on Facebook, "For everyone who has been asking if #DeepthiSunaina is one of the participants in #BiggBoss2 , we have a little surprise for you tonight. ✨ Do watch #StarMaa tonight at 9PM Because.. #YedainaJaragachu Just in case if you miss tonight's episode, you know you can download #Hotstar and watch it tomorrow! #BiggBossTelugu2 #DeepthiSunainaArmy -"
Gogineni is a rationalist and human rights activist. He served as Executive Director of the International Humanist and Ethical Union (IHEU). He is the founder of South Asian Humanist Association and Indian Humanists. Gogineni is also the owner of Skillguru, a training organization and private business. Through his activism, he campaigns against established privilege and abuse of rights in the name of religion.
As for Deepthi Sunaina, she is quite a popular name in social media. Her acting and dancing talent often gets her trolled. However, this undeterred starlet prefers to wear her heart on her sleeve and do what she loves the most – dance and dubsmash videos. She is undoubtedly the cynosure of Telugu social media, according to the Times of India.