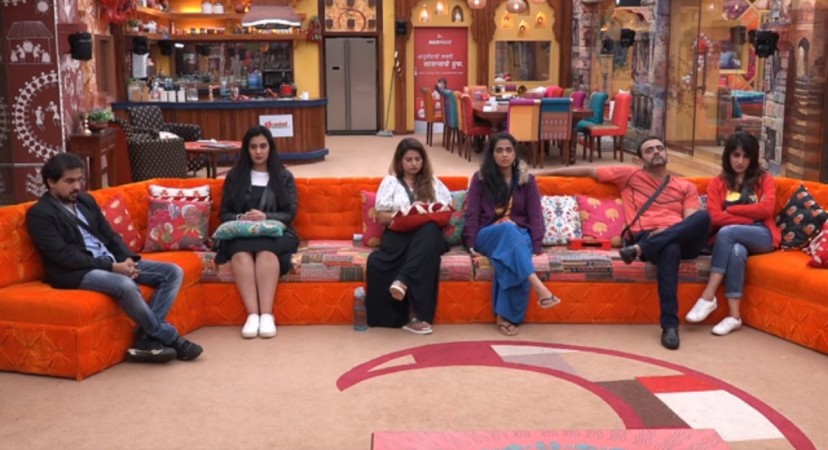 Megha Dhade is likely to emerge as the winner of Bigg Boss Marathi, beating other finalists like Aastad Kale, Pushkar Jog, Smita Gondkar, Sai Lokur and Sharmishtha Raut, according to the poll conducted by IBTimes India.
Bigg Boss Marathi Season 1 is all set to roll its finale episode on July 22 as the controversial reality show will see its six finalists – Megha Dhade, Aastad Kale, Pushkar Jog, Smita Gondkar, Sai Lokur and Sharmishtha Raut – competing against each other to become the ultimate winner.
And it looks like Megha has the upper hand in the competition as she has become one of the favourite contestants among the viewers. Her fans have been rallying behind her, even flooding social media sites to urge people to vote for her.
International Business Times India conducted an audience poll in which Megha is clearly leading with a huge margin in the race to take home the winning trophy. She got 65.94 percent votes which show that Megha will beat Sharmishtha, Sai, Pushkar, Aastad and Smita. And, it would not be surprising if she finds herself in the Top 2 finalists.
Aastad Aastad received 11.23 percent votes securing his second position, Pushkar got 11.05 percent votes in the poll.
There was also a tough competition between Smita and Sai to become the Bigg Boss Marathi winner. While Smita got 5.98 percent votes, Sai got 4.17 percent.
It is quite shocking to see Sharmishtha getting the least number of votes in the poll as she was being considered one of the strongest contestants in the house. She got only 1.63 percent votes.
Check the results of the poll when IBTimes India asked fans "Who will be the winner of Bigg Boss Marathi?"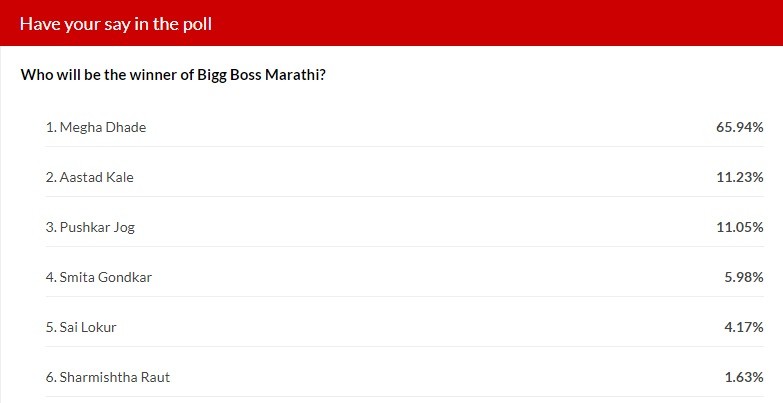 The final voting results will be unveiled on Sunday episode and see who among Megha, Sai, Pushkar, Sharmishta, Smita and Aastad will lift the winning trophy and take home Rs 50 lakh cash prize.
Stay tuned to ibtimes.co.in for all the latest happenings of Bigg Boss Marathi season 1.