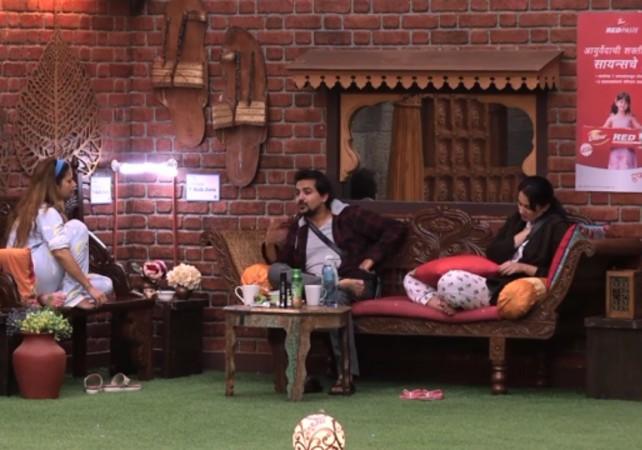 Bigg Boss Marathi's Sunday episode not only shocked their viewers when Resham Tipnis got eliminated from the house after she received less number of votes than Aastad Kale and Smita Gondkar, but it has also somewhat created a rift between Pushkar Jog, Sai Lokur and Megha Dhade's friendship.
In the Weekend Cha Daav episode, host Mahesh Manjrekar gave contestants a task to perform wherein they had to pick up one contestant's photo who they want to see in the finale and tear those who they feel don't deserve a ticket to the finale.
While performing the task, Pushkar and Sai picked up each other's photo to see themselves in the finale. And though Megha said that she wants to see both her friends Pushkar and Sai in the finale, she picked up Sharmishtha Raut's photo and said that she wants her to compete with her as she has earned her place to be in the finals.
Megha's choice of seeing Sharmishtha going to the finale has now left Pushkar and Sai disappointed with her as she destroyed both their photographs.
In a sneak peek of tonight's episode, Pushkar and Sai can be seen discussing the needle task sitting possibly in the garden area. Megha then enters the scene and tries to explain why she picked up Sharmishtha's photo during the task. But Pushkar and Sai were in no mood to discuss what had happened and why she did it.
Sai retorted that the task was about whom do you want to see in the finale along with and complained that she chose anyone between the two. Pushkar, on the other hand, says that let's wait and watch what happens in the coming Saturday and let's not discuss all these things now.
Pushkar and Sai's weird behaviour leaves Megha angry. She tells Sharmishtha that she knew that both of them will get upset with her after the task. She further complains that Pushkar and Sai always take each other's side making her feel like a third wheel between them.
Now, it remains to be seen whether this crack brings an end to their friendship just a week before the finale episode. Let's wait and watch.