Actress Resham Tipnis courted controversy after kissing and sharing a bed with Rajesh Shringarpure. But after her elimination from the house, she says that they are just friends.
Bigg Boss Marathi season 1 is just a week away from airing its finale episode. In the Weekend Cha Daav episode on Sunday, July 15, Resham Tipnis was evicted from the house after getting lesser votes than fellow contestants Smita Gondkar and Aastad Kale.
Host Mahesh Manjrekar told her that she played the game well and fair during her stint inside the house. But more than her achievements and performances in the tasks, her closeness with Rajesh Shringarpure had been much talked about. And after her eviction, it looks like Resham has friend-zoned Rajesh Shringarpure with whom she shared a lot of intimate moments in the house.
After coming out of the Bigg Boss Marathi house, when Resham Tipnis was asked about her alleged liaison with Rajesh Shringarpure inside, she replied that he is "just a friend".
In Bigg Boss Marathi, Resham Tipnis and Rajesh Shringarpure grew very close to each other. The two created a huge controversy when they were spotted sharing a bed and even kissing each other in the house.
While Resham is divorced, Rajesh is much married and their public display of affection did not go down well with the audiences. Mahesh Manjrekar had also issued a warning to them due to the PDA. But to no avail. When Rajesh was on his way out of the Bigg Boss Marathi house, Resham again hugged and kissed him and said, "love you".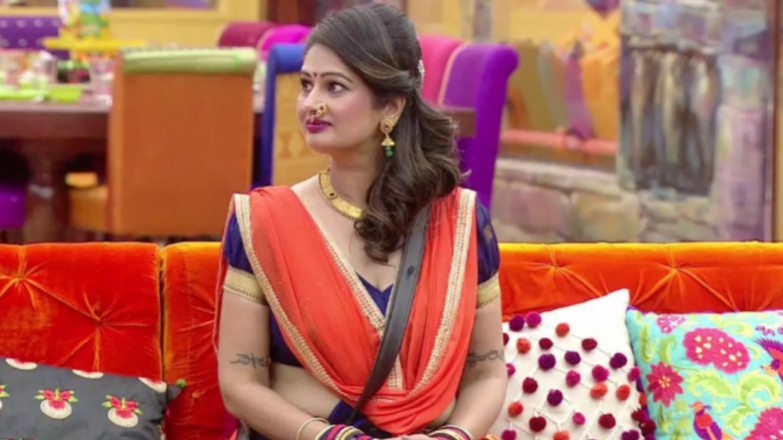 Viewers were left completely disgusted after witnessing the romance between Resham and Rajesh brewing inside the house. Rajesh had even confessed his love to Resham after he returned from the secret room during an episode. He also said that his wife Dimple will understand his love for Resham before deliberately wrapping her in his arms in front of the camera.
Rajesh is married to Dimple and has two daughters while Resham is a divorcee and has two kids. And it looks like Resham has taken a huge U-turn after getting eliminated from the Bigg Boss Marathi house by saying that Rajesh was just a friend and nothing more than that.
Another pair who is talked about for their closeness on Bigg Boss Marathi Season 1 is Bollywood actress Sai Lokur and actor-director Pushkar Jog, the latter being married in this case. Pushkar and Sai have maintained their loyalties to each other throughout Bigg Boss Marathi. In one episode, Sai and Pushkar also spoke about their friendship and pledged to be there for each other even after exiting the Bigg Boss Marathi house. Pushkar Jog is already a finalist on Bigg Boss Marathi and could win the show. Let's see how the equations change of this alleged couple once they are out of the Lonavala home of Bigg Boss!
Let's wait to see if Resham Tipnis and Rajesh Shringarpuee do reconnect as friends now.