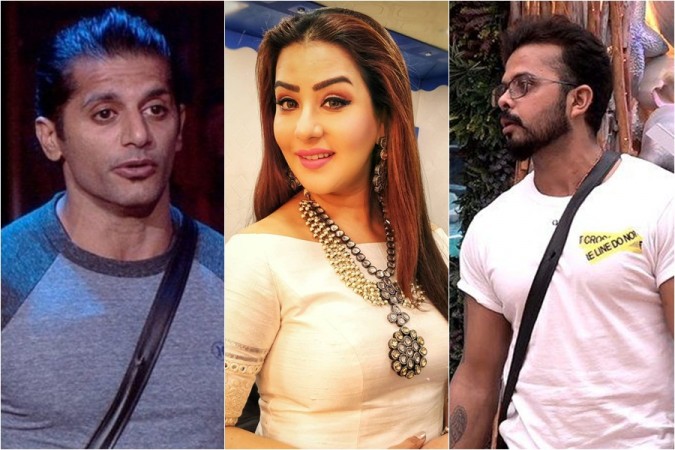 Bigg Boss 11 winner Shilpa Shinde is currently facing the wrath of netizens over targetting Karanvir Bohra for making Sreesanth wash utensils in a task.
In a long Instagram post, Shilpa Shinde said that she appreciated the way Sreesanth handled the task and also lauded his wife Bhuvneshwari for not going against the makers of Bigg Boss 12 while drawing parallels with Karanvir's wife Teejay Sidhu. Earlier, Teejay had slammed Bigg Boss and host Salman Khan for constantly humiliating her husband in the show.
The former Bhabhi Ji Ghar Par Hain actress added that the Bigg Boss show is about the survival of the fittest which is the only basis of staying inside the house.
Read Shilpa Shinde's full statement on supporting Sreesanth and targetting Karanvir.
"I must appreciate the way @BiggBoss consoled #Sreesanth & handled that critical situation. Making a person wash utensils, who has represented our country on international level, was a terrible task, even HMs realized it. Especially #KV also realized how piercing it was. But I m proud of @bhuvneshwarisr1 who didn't utter a single word against it despite seeing her husband in this state.. I am glad she realized how tough it is to stay in that house. I understand #Teejay defending her husband, but she should also realise that it's a BiggBoss house after all and one can stay inside only on one basis.. "Survival of the fittest" and to be Fit in house means to be patient enough and have a strong will-power. This is not a school where parents outside school are fighting with each other, because their kids are fighting inside."
However, Shilpa Shinde's fans were not happy about her stance towards the entire situation. They started slamming her for being biased towards Sreesanth who has done a lot of mistakes and played unfair inside the house rather than Karanvir who had been respecting the show's format.
"This is absolutely wrong! We supported you in the last season but this time you are wrong and we are very disappointed After this post you lost the earned respect.Teejay's defence for KV is absolutely correct as we feel it too ! KV is very politely and respectfully handling the matter but it is not that much small matter ! We(KVBians) know how sad it is to see him getting insulted! Teejay's post was not a defence but it was the reality happening in BB ! KV will receive our support forever! And you have lost it forever," an Instagram user expressed her disappointment.
Another user wrote, "This is wrong @shilpa_shinde_official mam totally wrong ... he represented india but in bigg boss house he is a contestant and if he is doing mistakes breaking the house rules then he deserves punishment... he represented india it doesnt mean that he can do mistakes and he will be not punished..."
And there were several others who criticised Shilpa Shinde for her stand.