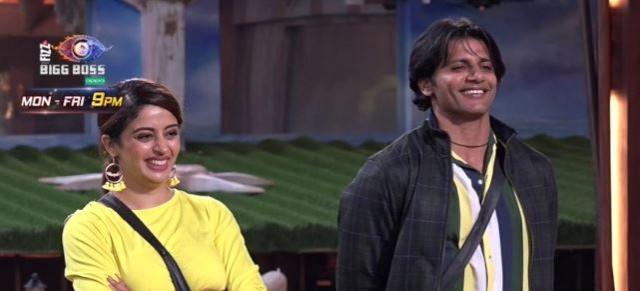 The nomination process for elimination in the fourth week inside the Bigg Boss 12 came up with twisted challenges and process. Karanvir Bohra, Sreesanth and Neha Pendse were nominated to be evicted this week, not by the housemates, but by the Bigg Boss himself.
During the nomination process for this week, the audience was left in a state of shock as Bigg Boss nominated the three strongest housemates for nominations.
In a strange turn of events, Sreesanth, Neha Pendse and Karanvir Bohra were nominated by Bigg Boss for this week's elimination without any actual nomination process. The decision came as a punishment by Bigg Boss for the trio, who had volunteered to go to the kaal-kothri last week. Not only were the trio sent to the kaal-kothri but they were also nominated for evictions.
Bigg Boss threw a curveball at the housemates by announcing midweek eviction for the nominated contestants. Sreesanth was the one who was ousted from the house during the midweek eviction which left many housemates emotionally devastated. However, without the knowledge of the inmates, Sreesanth was sent to the secret room where Anup Jalota was already present.
The biggest twist came after that when Bigg Boss announced that Neha and Karanvir are still nominated and one of them would be evicted from the house this weekend. The news left Karanvir and Nehha shocked and angry over this unfair decision of Bigg Boss.
Now, as per our IBTimes survey, viewers want Nehha to be evicted from the house. With 85.54% votes, Nehha has received massive votes against her in comparison to Karanvir, who has received a meagre 14.46% votes.

Karanvir and Neha, both have strong personalities and have emerged as an integral part of the house. We wouldn't want to see any of them leaving. But, as the rule says, one of them will definitely leave the show in this weekend ka vaar. Let's see who faces the axe this weekend.