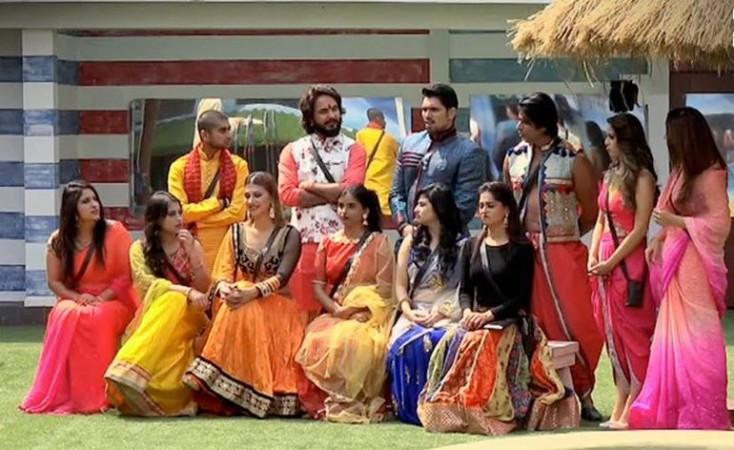 Six contestants -- Urvashi, Saba, Shivashish, Karanvir, Shristy and Jasleen -- have been nominated for elimination from Bigg Boss 12, while Anup Jalota and Sreesanth re-entered the house on October 15.
Here are the live updates of October 15 episode of Bigg Boss 12 and nomination for elimination:
10:00 pm: Jasleen asks who is the most poisonous person in the house and Anup claims that it is Dipika. Anup also tells Karanvir that he has been highly influenced by Dipika, as it appears as if he is almost devoted to her. His behaviour might have hurt his wife who is watching him from outside. Hearing this, Karanvir breaks down and apologises to his wife if it looked like that.
9.53 pm: Anup and Sreesanth tell everyone that it's Dipika who is the smartest one to play all the games. Sreesanth tells Srishty that Dipika and Neha were against her throughout and they should have at least thought from a woman's perspective and supported her. Anup also warns Urvashi of going against Deepak by listening to the cooked up stories by Dipika and Nehha.
9.50 pm: Sreesanth makes an entry with Deepak's song playing in the background. Dipika stays in the background hesitant to come forward and meet Sreesanth, who thanks Saba and Deepak for supporting him immensely. He says a very cold hi to Dipika. Upset with his behaviour, Dipika locks herself inside the bathroom crying. Sreesanth expresses his anger over Dipika's decision to evict him. Anup Jalota and Sreesanth talk about how Dipika was an unfair mentor during the captaincy task and could have easily avoided the drama.
9.45 pm: Anup Jalota makes a grand entry into the house singing "Bachna Ae Haseeno". Jasleen looks absolutely shocked to hear his voice. Deepak is the first one to hug Anup Jalota when he enters the house. An elated Jasleen shares a warm hug with Jalota. She says she just can't believe that he is back in the house. Anup Jalota says that he has seen all the episodes and is very upset with Jasleen. He says that he chose to go out leaving Jasleen behind thinking she would emerge as a strong player but she chose to get involved in fashion parade instead. Anup Jalota tells housemates that Sreesanth is upset with Dipika and Shivashish.
9.35 pm: Some housemates are not happy with their nominations for elimination and they crib about each other. Anup Jalota and Sreesanth are ready to get back into the house. They both come up with a strategy and decide that they went outside, met their family and post that have come back to the show. They also decide to tell the housemates that they have seen audience reaction and have seen all aspects of the housemates.
9.22 pm: In a major twist, Bigg Boss asks Romil and Surbhi to choose one among them for becoming the captain. Romil takes Surbhi's name saying she has the fire to be the captain. Urvashi Saba, Shivashish, Karanvir, Shristy and Jasleen are nominated for elimination.
9.21 pm: In a bid to prove their friendship, Shivashish and Saurabh take their own names to be nominated. Finally, Shivashish puts forth his name for the nominations. Captains Romil and Surbhi are safe from the weekend elimination. Bigg Boss asks them if they are satisfied with the decisions. Romil and Surbhi opine that Shivashish should be saved and Saurabh should be nominated.
9.18 pm: Next jodi to enter the room is Saba and Somi. The latter expresses her desire to stay as she feels that she has made her presence felt in the house. Saba nominates herself for being physical and losing her cool during the task. The sisters end up crying.
9.17 pm: Bigg Boss reminds them that the judgement should be taken on the basis of who the audience must have seen between the two. Without much discussion, Deepak nominates Urvashi's name saying that she has not seen much during the tasks or when it comes to the entertainment factor.
9.15 pm: Before breaking the jodis, BB announces that the inmates will have to perform one final task before going their separate ways. Jodis enter the activity area. Deepak and Urvashi sit on two swings. Bigg Boss gives them the option to choose one contestant among them for nominations.
9.14 pm: Bigg Boss calls all the housemates into the living area. Bigg Boss says that after four weeks, contestants need to put forth their own individuality and each contestant should be able to choose their individual paths. Saying this, Bigg Boss announces that from today, jodis would be dissolved and all the housemates would play against each other.
9.12 pm: Sreesanth remembers and tells Anup the tough time he had gone through during the ban that was imposed on him. Sreesanth fails to hold back his tears and breaks down. Sreesanth expresses his desire to play for India someday again! Anup Jalota reassures him that good time will come soon.
9.10 pm: Housemates wake up to "do mastaane chale zindagi banane". Sreesanth remembers the time when during an interview, the interviewer complimented everyone except for him. To which, Sachin came to his defence and told that reporter to include Sreesanth's name too as he also played well.
9.07 pm: Urvashi and Deepak engage in a cute banter. Housemates begin teasing Urvashi with Deepak's name. Dipika and Jasleen talk about Deepak's emotions for Urvashi and add that no matter how hard they try, they can't hide their feelings for each other. Sreesanth says housemates should not link Urvashi and Deepak as they are just good friends. Anup Jalota tells Sreesanth that Deepak and Urvashi should carry themselves with the same dignity as Jasleen and he does.
9.05 pm: Anup Jalota can be seen talking about how audience must have lost their faith in Dipika. Somi and Jasleen can be seen talking about Dipika's unruly behaviour and dominating attitude within the house. Anup Jalota and Sreesanth add how everything Dipika has done, ruined her image on national television.
9.02 pm: The 28th day begins with Dipika Kakkar explaining and defending her point about the time she said, "I'll make sure no one gets to eat." Dipika expresses her desire to clear the confusion with Surbhi. Dipika says that she cooks and serves food with all her heart hence she doesn't need to justify anything to anyone.
Bigg Boss 12 is gearing up for the nomination process for the elimination in the fifth week in the tonight's episode. But the viewers are set to witness some never before seen thrilling moments in this episode.
All these days, many viewers had been complaining of Bigg Boss 12 being the most boring season. The makers have assured that the upcoming episodes are going to be thrilling and entertaining. They have released some promos, which hints that the drama and thrill inside the house will grow multifold.
The promos offer a glimpse into two important development inside the house of Bigg Boss 12. Firstly, Monday episode will witness the re-entry of evicted contestants Sreesanth and Anup Jalota, who were kept in a secret room all these days. The two have watched all the previous episode, where they saw the real colour of all the housemates. They are making a comeback with a proper gameplan.
Secondly, the promos hint that all the couples would be broken and they will perform as individual contestants from today. The video show Jasleen Matharu is excited to see Anup Jalota to back in the house and she rushes to hug him. He is apparently upset with her behaviour after his elimination from Bigg Boss 12.
The viewers can clearly notice a change in the behaviour of Anup Jalota, who is seen lambasting her for her indifference towards him post his exit from the show. The Bhajan maestro questions Jasleen Matharu over her self-centred attitude and asks her to focus on fashion and glamour.
The viewers will get to see a lot of drama happening before Bigg Boss kick-starts the nomination for the elimination in this week. We bring you both the drama as well the nomination process. Stay locked to this pace to see the live updates.