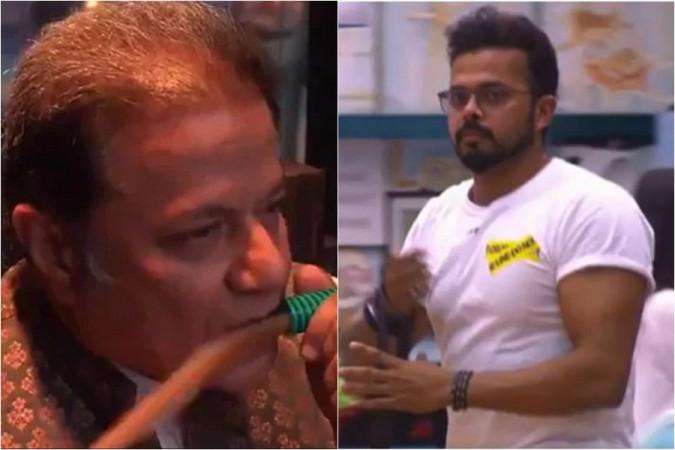 The drama and thrill inside the Bigg Boss house are going to increase many folds with the return of Sreesanth and Anup Jalota tonight. In the episode, Anup and Sreesanth would make a big-bang entry into the house again leaving many housemates shocked and many elated.
While an excited Jasleen rushed to hug Jalota, the Bhajan maestro didn't hug her as warmly as she would have expected. Courtesy – all the video footages he has seen of Matharu post his exit. Sreesanth too makes a happy entry into the house, sharing some really cold vibes with Dipika Kakkar, who seems prepared to face the storm that's to come ahead.
We even saw a sobbing Dipika, upset with Sreesanth's behaviour, rushing to the washroom to cry her heart out. Shocked with Dipika taking her name during the midweek eviction and her dual attitude, Sreesanth had decided to teach the 'Simar' actress a lesson after re-entering the house. He had also expressed his desire to support Srishty who was left cornered by the single celebs.
On the other hand, Anup Jalota was seen in one of the promos, lambasting Jasleen for her indifference towards him or his absence post his exit from the show. Jalota not only grills her for her self-centred attitude but also gave her an earful for just focusing on fashion and glamour instead of emerging as a strong player within the house.
Both, Anup Jalota and Sreesanth seem focused on setting the housemates right with whatever they have seen from the secret room.
We also heard Bigg Boss announcing that everyone would be on their own from now on as jodis would get dissolved. Now, the dynamics and equations within the house are definitely going to see an upheaval with all the housemates being on their own. What new twists and turns will this new announcement make, remains to be seen.