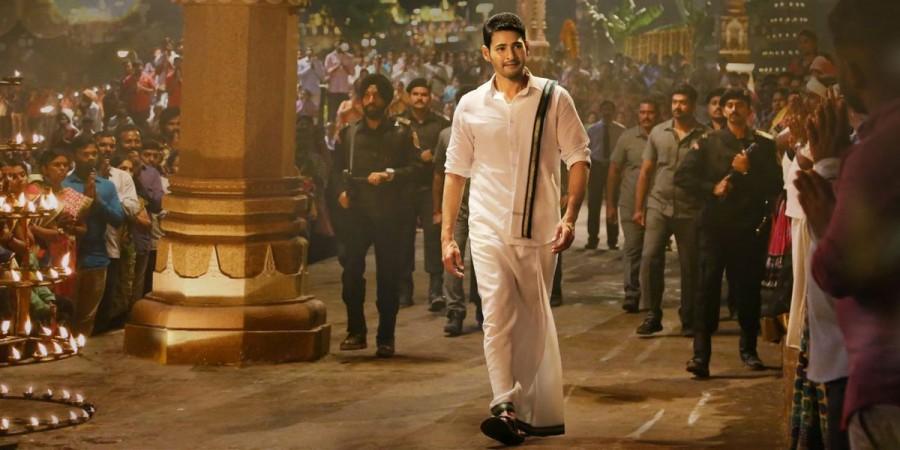 SS Rajamouli, Jr NTR, Ram Charan, Rakul Preet Singh, Sreenu Vaitla and many other Telugu celebs have lauded director Koratala Siva and Mahesh Babu for their work in Bharat Ane Nenu.
Bharat Ane Nenu is one of the most of talked about Telugu movies of 2018. Along with filmgoers, many celebs were impressed with its promos and had been eagerly waiting for its release. Some of the celebs including SS Rajamouli watched the movie and shared their views on it.
SS Rajamouli: Raising issues like Local Governance in a commercial film requires a lot of thought. Truly appreciate @sivakoratala garu and @urstrulyMahesh for their conviction. Press meet scene is the best amongst many good moments in #BharatAneNenu . @urstrulyMahesh delivered his best performance. Casting is very good. Everyone fit in perfectly. Congratulations Danayya garu and the team of #BharatAneNenu.
Jr NTR: Blending social responsibility with commercial elements is not an easy job. Kudos to @sivakoratala for balancing both aspects beautifully. And congratulations to @urstrulyMahesh for delivering a flawless performance. Congratulations to the entire team of #BharathAneNenu for making an honest and remarkable film.
Ram Charan: A perfect example of a classic film - subtle yet powerful performance by Prince Mahesh Babu.. Beautifully written & perfectly executed by Siva Garu. Devi u were super - enjoyed your music & background score. Congratulations Kiara for an outstanding debut.. Congrats to DVV Danayya Garu for an amazing film.. Kudos to team #Bharathanenenu
Rakul Preet Singh: What an inspiring film #BharathAneNenu is!how amazing is @urstrulyMahesh sir as Bharat!Such well written n well executed scenes!Clapped thru d film still feel the high of watching a lovely movie. Congrats to d entire team!Thanku @sivakoratala sir 4 giving us #BharathAneNenu
Manoj Kumar Manchu: Manoj ane nenu is a fan of #BharatAneNenuOutstanding film indeed! Congratulations @urstrulyMahesh anna and the entire team!❤️❤️
Mehreen Pirzada: Finally watched #BharatAneNenu here in Chennai! What a CM -Superstar @urstrulyMahesh sir you truly rock Thank you @sivakoratala Sir for showcasing our Superstar in such a dynamic role Kudos to the whole team! This is how a #Promise is to be kept
Kalyanram Nandamuri: Just watched #BharathAneNenu. Blown away by @urstrulyMahesh performance and @sivakoratala writing & direction. Terrific film. Congratulations to the whole team for a remarkable film
Sudheer Babu: #BarathAneNenu meets all those huge expectations Maheshs performance in the press meet scene stands out for me as one of his best performance till date. Super congratulations to the entire team @sivakoratala @ThisIsDSP @DVVEnts
Nikhil Siddhartha: BharatAneNenu chudadam jarigindi, cinema Addirindhi SuperStar Mahesh Babu is incredible in the Movie.. Congratulations to @sivakoratala Sir ND the team of #BharatAneNenu for the Blockbuster... @urstrulyMahesh
Raj Tarun: #BharatAneNenu A visionary film!! Loved it!!! Congrats to @sivakoratala Garu and the whole team for such a huge success!!! @urstrulyMahesh Garu
Subbaraju: #BharathAneNenu kept its promise beyond anyone's expectations. bow to @urstrulyMahesh @sivakoratala.
Shashank: Exceptional writing .. Class Direction by @sivakoratala Sir n Outstanding performance by @urstrulyMahesh Garu makes #BharatAneNenu a perfect watch Summer continues with one more Blockbuster Hit from our SuperStar ⭐️ Congratulations to the team for the huge success
Sreenu Vaitla: Watched Bharath ane nenu ..@urstrulyMahesh ruled our hearts as a prince and now taking charge over us with his mind blowing performance and extraordinary looks..Congratulations to the entire team for the blockbuster.
Vamshi Paidipally: #BharatAneNenu... Mr.Bharat has taken charge and His Rule Begins... @urstrulyMahesh has kept his 'PROMISE' of delivering A BlockBuster... Sir,You lived the character and Your presence is stunning as always.. Kudos to @sivakoratala for the Honest Narration.. :) #BharatAneNenu...@ThisIsDSP is ruling the roost, Back ground score is Fantastic Buddyy.. CONGRATULATIONS to the whole Team for this Huge One.. @DVVEnts @Advani_Kiara @DOP_Tirru...
Gopichand Malineni: #BharathAneNenu..superbbb..@urstrulyMahesh Garu at his best .@sivakoratala ..it's very honest attempt..@ThisIsDSP fantastic BGM..congratulations to whole team
Atluri Venky: Just watched Bharat Ane Nenu . Fantastic movie . @urstrulyMahesh sir stellar performance @sivakoratala What an idea sir. Hats off @Advani_Kiara welcome to telugu cinema.
Meher Ramesh: #bharathanunenu SUPER STAR @urstrulyMahesh Splendid performance @sivakoratala sharp Pen &Vision,very relatable Content to present world,@Advani_Kiara Fantastic @ThisIsDSP Rayalaseema Episode Heroism peaks&Pressmeet scene Goosebumps @DVVEnts Blockbuster Hit
BVS Ravi: Brittle premise yet tough script matched with outstanding performances and top notch directorial and technical brilliance of @sivakoratala makes #BharatAneNenu yet another memorable blockbuster for @urstrulyMahesh congrats @DVVEnts @ThisIsDSP
Anil Sunkara: Just completed #bharathanunenu . Our super star fulfilled his promise to all people. This is the best political film in tfi history. This is superstar's biggest gift to fans till date. Phenomenal block buster. Every person should watch this movie with families.
Anil Ravipudi: #bharathanenenu superb...@urstrulyMahesh Garu done great job....so many good momments.@sivakoratala Garu..writing nd presentation..very nice sir... congratulations to whole team
Dhananjayan Govind: #BharatAneNenu is a classic commercial film from @sivakoratala garu, which has a magnificent performance from @urstrulyMahesh garu ...quite liked the grand manner the subject was presented. @prakashraaj @realsarathkumar sir are very good. Must watch for the purpose of the film #BharatAneNenu in one way is also a great tribute to @shankarshanmugh sir's #Mudhalvan in it's purpose, presentation & Screenplay treatment including the climax. Happy to see the way the original idea inspired @sivakoratala garu to make this huge film in Telugu. Must watch